Tim Cook Coffee Auction Ends with $610,000 Bid
The CharityBuzz auction for coffee with Apple CEO Tim Cook has just ended, with a final bid driving the price up to $610,000. Previously, the auction had stagnated at $605,000, where it remained until 30 minutes before the bidding closed.
The $610,000 bid was placed by a newcomer to the auction who had not previously bid before, known only as "a********s." While CharityBuzz will not release the name of the high bidder, it is possible that the winner will come forward to take advantage of the publicity surrounding the auction.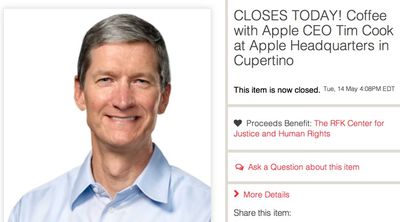 Currently, the money that the Tim Cook auction has brought in is more than twice as much as the total of the current high bids on the other 118 auctions that are supporting the RFK Center for Justice and Human Rights.
Because the bidding totals ran so high with bidders clamoring for a moment in the spotlight, CharityBuzz was forced to implement bank qualification terms before additional bids could be placed, which slowed bidding considerably.
Under the terms of the auction, the high bidder is entitled to a 30–60 minute meeting with Cook at Apple headquarters on a mutually agreed upon date.