Tim Cook Charity Lunch Auction Ends, Earns $200,000 for RFK Center
Tim Cook's third annual CharityBuzz auction ended this afternoon, earning $200,000 for the Robert F. Kennedy Center for Justice and Human Rights. The auction, which had more than 20 bids, includes a one hour lunch date with Tim Cook at Apple's headquarters in Cupertino and two VIP passes to an Apple keynote event to watch Apple unveil new products.
Though the auction earned an impressive $200,000 for the RFK Center, it brought in less money than previous auctions held in 2013 and 2014. In 2013, the inaugural CharityBuzz auction for a coffee date with Cook brought in an impressive $610,000, and 2014's lunch auction ended at $330,001.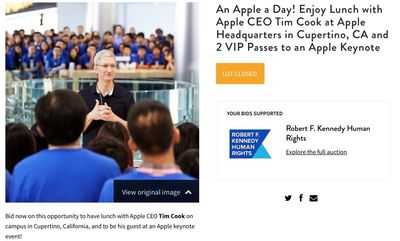 Today's auction winner will be able to bring one additional person to have lunch with Cook, with the cost of lunch being included in the auction price. Transportation and accommodations to Cupertino are not included, however, and the exact date of the lunch will be scheduled at a mutually agreed upon time.
This year's event, like last year's, included two VIP tickets to an upcoming Apple keynote event -- WWDC is on the horizon, so the auction winner may be invited to attend the WWDC keynote. WWDC promises to be quite exciting this year, as rumors have suggested a whole slew of products could see an unveiling, including a new streaming music service, a new streaming television service, and a new Apple TV. We'll also see iOS 9 and OS X 10.11.
Proceeds from today's auction benefit the RFK Center for Justice and Human Rights, a charity that Tim Cook has now supported for three years running. The RFK Center aims to achieve "a just and peaceful world by partnering with human rights leaders, teaching social justice, and advancing corporate responsibility."