Siri and iAd Restricted by Apple 'Policy Czars' to Limit Customer Data Collection
As Apple's battle with the FBI and Department of Justice appears to have hit a crescendo, with the Tuesday hearing between the DoJ and Apple having been postponed, Reuters has published a new report outlining how a team of "policy czars" has impacted Apple's data collection policy and restricted Siri and iAd in the process.

Unlike Google, Amazon and Facebook, Apple is loathe to use customer data to deliver targeted advertising or personalized recommendations. Indeed, any collection of Apple customer data requires sign-off from a committee of three "privacy czars" and a top executive, according to four former employees who worked on a variety of products that went through privacy vetting.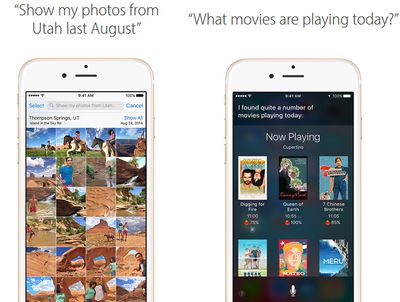 The three "policy czars" are Jane Horvath, a lawyer who served as global policy counsel at Google, Guy Tribble, a member of the original Macintosh team and the vice president of software technology who spends a significant amount of time on privacy, and Erik Neuenschwander, who reviews lines of engineer's code to confirm that they're following policy.
Product managers start collaborating with the privacy task force early, steering complicated privacy issues to senior vice presidents or Tim Cook himself when needed. Key principles behind many of the data decisions for Apple's services and products include keeping data on the hardware rather than in the cloud or Apple's servers and isolating data so it cannot be used to form a profile of a customer.
However, Apple's privacy stance has resulted in restrictions to products like Siri and iAd. Employees had wanted to use iTunes' user base to sharpen iAd targeting, hoping to create anonymous identifiers so advertisers could figure out which users had seen its ads. The pitch was denied by the policy czars and the iAd team was only allowed to show advertisers how many people had seen an ad rather than who. "It was so watered down, it wasn't even useful," a former Apple employee told Reuters. Apple dismantled the in-house iAd sales team in January 2016.
Shortly after Apple purchased Siri in 2010, the company began integrating it into iOS. However, policy czars insisted that voice data from Siri be stored differently than personal identifiers for customers. The insistence meant the Siri team had to perform a "major back-end surgery" on the feature to both make it work and comply with privacy policy. Similarly, the team updating Spotlight in 2014 had to figure out a way to keep users' search logs private while on Apple's servers.
Apple has continually stressed how important its customers' privacy is, and numerous reports over the past several years have suggested that, despite Apple's enthusiasm to innovate, the company could continue to struggle with services like Siri and Maps due to its privacy and security policies.