Apple to Automate iAd Platform and Dismantle In-House iAd Sales Team [Updated]
Apple's iAd program has never been responsible for a large portion of its sales, leading Apple to decide that it's time to take a step back from the platform. According to BuzzFeed, Apple plans to end its efforts at advertising sales and cease its direct involvement with iAd. "It's just not something we're good at," an inside source told BuzzFeed.
To accomplish this, Apple will dismantle its iAd sales team and will turn the iAd platform over to publishers, allowing them to directly create and sell advertising content. Publishers will be able to keep 100 percent of revenue generated.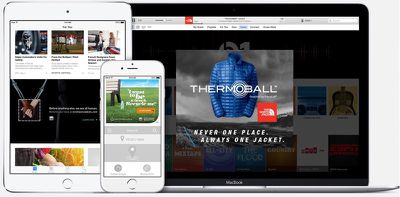 Advertising industry sources familiar with Apple's new plan for iAds seem intrigued by it. "I think this is going to be great for publishers," said one. "It gives them direct dialogue with their customers as opposed to forcing them to go through an Apple middleman. Access will be more plentiful and easier to manage -- theoretically."
In September, Apple made the first steps towards automating iAd with an iAd Workbench update that added tools to allow publishers to sell ads themselves in Apple News. Currently, Apple News publishers are able to sell their own ads or have iAd sell on their behalf, while developers have to rely entirely on iAd. Apple is expanding its Apple News model to the App Store and other platforms, allowing publishers to sell directly.
Since its debut in 2010, Apple has failed to establish iAd as a successful advertising platform, mainly due to pricing. At launch, iAd's minimum buy-in fee was at $500,000 and despite several price cuts, Apple has struggled to get advertisers on board. Apple made several improvements to iAd over the years and attempted to revive the platform when iTunes Radio launched, but it has never been a successful venture for the company.
For end users, the impact should be minimal. The iAd platform is sticking around and should continue to serve up many of the same in-app ads in the same format that's available today.
Update 1/15: Apple has confirmed plans to discontinue its iAd App Network on June 30, 2016 in an announcement made to developers.