Apple Executive Johny Srouji Profiled About iPhone and iPad Chip Development
Bloomberg Businessweek has published an in-depth profile of Apple senior vice president Johny Srouji that reveals how the iPad Pro was originally planned for a spring 2015 launch with the same A8X chip powering the iPad Air 2. The 12.9-inch tablet was running behind schedule, however, and Apple ultimately decided to delay announcing the device until late 2015 at its annual iPhone event.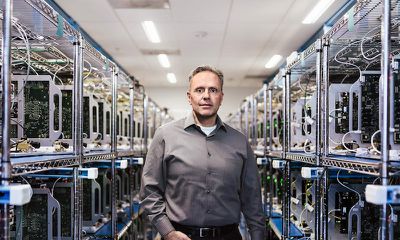 Apple realized the 12.9-inch tablet would seem lacking alongside the A9-based iPhone 6s, so Srouji and his team were challenged to fast-track development of the A9X chip by half a year. The chip was ultimately finished on time, and Srouji was rewarded with a promotion to Apple's executive team as Senior Vice President of Hardware Technologies and 90,000 RSUs in December.
Apple-designed chipsets allow the company to deeply integrate hardware and software on iPhones and iPads, but Srouji admitted that silicon development is not easy.
If there's a bug in software, you simply release a corrected version. It's different with hardware. "You get one transistor wrong, it's done, game over," Srouji says. "Each one of those transistors has to work. Silicon is very unforgiving." Among computer and smartphone makers, industry practice is to leave the processors to specialists such as Intel, Qualcomm, or Samsung, which sink billions into getting the chips right and making them inexpensively.
Apple did not always develop its own chips, as the profile explains. The original iPhone, for example, used components from different vendors, including a Samsung chip used in DVD players.
"Steve came to the conclusion that the only way for Apple to really differentiate and deliver something truly unique and truly great, you have to own your own silicon," Srouji says. "You have to control and own it."
The feature-length interview provides detailed background on Srouji, from his beginnings in Israel to his current years at Apple. It also corroborates rumors that Apple will launch a new A9-based 4-inch iPhone and A9X-based iPad Air 3 at its March 15 event.