Apple Pay Expanding to China, Possibly France and Canada's Big Banks
Apple Pay has launched in the U.S., U.K., Canada, and Australia to date, and the mobile payments service could expand to a fifth country this week: China. A customer service representative for China's Guangfa Bank, using the bank's public WeChat account, appears to have confirmed that Apple Pay will officially go live in the world's most populous country on February 18 at 5:00 a.m. local time.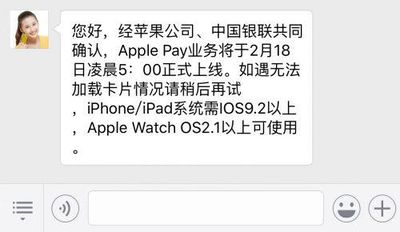 Apple previously announced that Apple Pay will
expand to China in early 2016
in
partnership with UnionPay
, a state-run interbank network that holds a monopoly on the country's credit and debit card processing. UnionPay cardholders will be able to use Apple Pay on iPhone, Apple Watch, and iPad -- the latter for in-app purchases only. iOS 9.2 or watchOS 2.1 or later will be required, according to the screenshot.
In November, The Wall Street Journal reported that Apple reached deals with China's big four state-run banks, including the Bank of China, China Construction Bank, Industrial and Commercial Bank of China, and Agricultural Bank of China, to launch its iPhone-based payments service in the country. The report said Apple Pay could launch by the weeklong Chinese New Year, which concluded on February 13.
That prospective date has since passed, but a pair of YouTube videos surfaced in January that appeared to show Apple Pay working with UnionPay bank cards in China for both in-store and in-app purchases. It is possible that Apple soft launched Apple Pay in China with select participating issuers in order to test the payments service, ahead of its official launch in the country in a few days.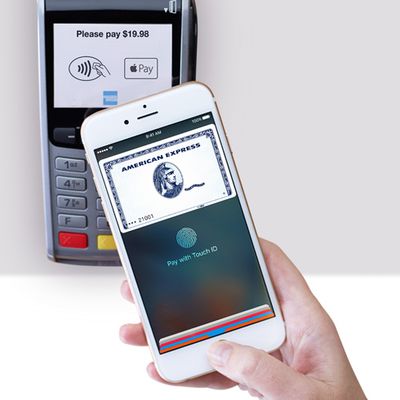 Meanwhile, French website iGeneration claims that Apple is preparing to launch Apple Pay in France and could make an announcement in the first half of 2016 -- perhaps at WWDC in June. The report claims it is unclear when Apple Pay will become available in French stores, nor does it have information about which banks and participating issuers will support the service upon launch.
Last, new evidence has been uncovered that hints at Apple Pay support coming to Canada's big banks. Specifically, Twitter user ChaseFromm2016 recently discovered a "NetworkInterac" string hidden in iOS 9.2.1 code, as shared by the blog iPhone in Canada. The same string was also shared on Chinese website Feng last month, in the screenshot pictured right, according to the report.

Interac
is Canada's official debit card network, adopted by the country's largest banks and credit unions nationwide, including BMO, CIBC, Desjardins, Meridian, National Bank of Canada, RBC, Scotiabank, TD Canada Trust, and
many others
. TD Canada Trust already stirred speculation in October when it
inadvertently listed Apple Pay
as a method of payment on its website, before quickly removing it.
Apple Pay is currently limited to American Express cardholders in Canada and Australia, and the same partnership will be extended to Hong Kong, Singapore, and Spain later this year. Apple Pay is now available at more than 2 million retail locations, and Au Bon Pain, Crate & Barrel, Chick-fil-A, Cinnabon, Chili's, KFC, and Starbucks stores now do or soon will accept the payments service in the U.S.
Update: Reuters confirms that Apple Pay officially launches in China on February 18.