Apple Pay Coming to China Through Partnership With China UnionPay
Apple today announced a new partnership with China UnionPay, which will see Apple Pay expanding to China in early 2016. Through the partnership, China UnionPay cardholders will be able to use their bank cards with Apple Pay on the iPhone, Apple Watch, and iPad (within apps).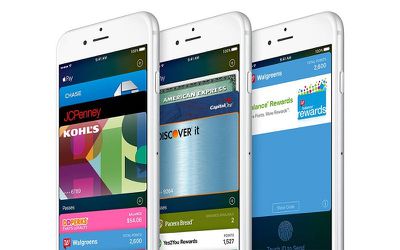 "Apple Pay has revolutionized the way millions of people pay every day with their iPhone, Apple Watch and iPad," said Eddy Cue, Apple's senior vice president of Internet Software and Services. "China is an extremely important market for Apple and with China UnionPay and support from 15 of China's leading banks, users will soon have a convenient, private and secure payment experience."
Apple Pay in the country will work with the China UnionPay Quickpass, an existing contactless payment service. Customers will be able to hold an iPhone or Apple Watch near a UnionPay QuickPass-enabled point-of-sale terminal to make a payment at participating stores.
Reaching a deal to bring Apple Pay to China has been a priority for Apple, given China's increasing importance to the company. A partnership between Apple and China UnionPay was first hinted at in February, when the first iOS 8.3 beta introduced support for the China UnionPay network. Talks reportedly stalled later that month, but in the weeks ahead of today's announcement, rumors pointing towards a deal picked up.
A recent rumor has suggested Apple is aiming to launch Apple Pay in China before February 8, 2016, which marks the start of Chinese New Year. According to Apple's press release, the service will be available following "relevant tests and certification" required by Chinese regulators.