Apple Pay Officially Launches in the United Kingdom Today
Over the past several days, banks and merchants in the United Kingdom have been gearing up for the launch of Apple Pay, and as of today, Apple's payments service will be officially available for use in England, Scotland, Wales, and Northern Ireland.
Apple Pay works at participating retail stores and within apps that accept it. Because it requires NFC, it is only available for iPhone 6 and 6 Plus users, and Apple Watch users who have an iPhone 5, 5c, 5s, 6, or 6 Plus. In-app Apple Pay purchases can be made with an iPad Air 2, iPad mini 3, iPhone 6, or iPhone 6 Plus.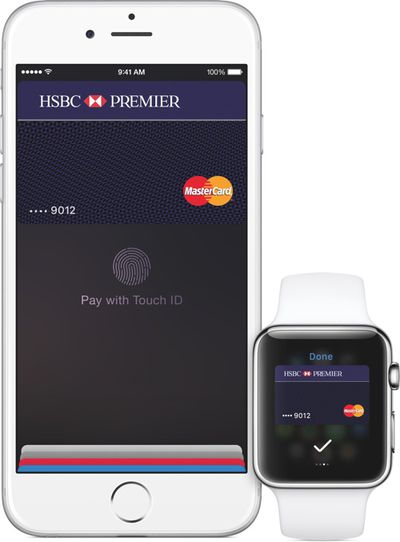 According to Apple's UK Apple Pay site, banks and credit card companies that are participating in the Apple Pay launch include American Express, First Direct, HSBC, Nationwide, NatWest, Royal Bank of Scotland, Santander, and Ulster Bank. Additional banks like Barclays, MBNA, TSB, and more are expected to add support in the future. Customers who have cards from participating banks will be able to add them to Passbook and use the Apple Pay service later today.
More than 250,000 locations in the United Kingdom support Apple Pay as of today, ranging from fast food places like KFC and McDonald's to shops like Boots, Marks & Spencer, and Waitrose. A full list of retail shops and apps that accept Apple Pay can be found on Apple's website.
Apple Pay has been available in the United States since last October and today's UK Apple Pay launch marks its first expansion. Apple is also rumored to be working on expanding the payments service to several other countries, including China and Canada.