Apple Pay Launches in Australia for American Express Cardholders
Apple Pay has launched in Australia in partnership with American Express, expanding iPhone-based mobile payments to a fourth country following Canada earlier this week. The service can be used at Coles, Harvey Norman, Kmart, McDonald's, Starbucks, Woolworths and other select Australian stores that accept American Express and have NFC-equipped payment terminals.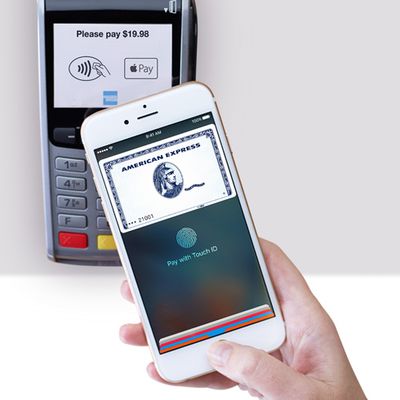 American Express cardholders can add credit cards in the Wallet app on iOS 9.1 by tapping the "Add Credit or Debit Card" option. Apple Pay currently only works with cards issued directly by American Express, and not bank-issued cards like the CommBank Awards American Express or Westpac Altitude Black American Express cards.
Apple says Australian customers will "soon" be able to add store credit cards and loyalty cards to Wallet, and use them to make purchases and redeem rewards with Apple Pay. Kohl's became the first U.S. retailer to offer store-branded cards in Apple Pay last month, while Walgreens launched the first stateside Apple Pay loyalty rewards program a few weeks ago.
American Express is not as popular or widely accepted as MasterCard or Visa in Australia, but the partnership could place pressure on negotiations between Apple and Australian banks like Commonwealth Bank, NAB and Westpac. No bank-issued debit and credit cards work with Apple Pay in Australia at this time.

Australia, like Canada and many European countries, has been well prepared for Apple Pay, as many retailers and businesses have the required contactless payments infrastructure in place. The country has also adopted Chip-and-PIN cards, and Apple Pay is a natural extension of that functionality.
Apple has slowly rolled out Apple Pay since announcing the service, starting with the U.S. in October 2014 and expanding to the U.K. last July. Beyond Australia and Canada, Apple is also partnering with American Express to bring Apple Pay to Spain, Singapore and Hong Kong next year.
Apple Pay recently gained support for Tesco Bank and TSB in the U.K. and over 90 new participating U.S. issuers. Yesterday, Apple confirmed that Apple Pay support is also coming to Domino's and Cinnabon in the U.S. by yearend and 2016 respectively. Starbucks, KFC and Chili's locations will adopt Apple Pay next year.
Apple's website has a new page with more details about Apple Pay in Australia.