Apple Pushing iPhone Upgrades During Holiday Shopping Season
Apple this week has encouraged customers to trade in and upgrade to a new iPhone through its website, email and an App Store banner advertisement.
Apple's new section on its iPhone website reminds customers about trading in their current smartphone at the Apple Store or online through partner Brightstar for up to $320 instant credit. Apple accepts the iPhone 4 or later for trade in.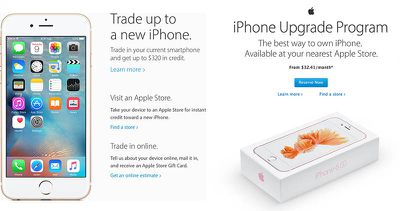 Apple's website, left, and email, right, promoting iPhone upgrades this week
Apple's mass email to U.S. customers promotes the
iPhone Upgrade Program
and shares details about how the financing program works. The email also provides similar details about trading in a smartphone for up to $320 instant credit.
Apple has also made the controversial decision to advertise the iPhone 6s and iPhone 6s Plus to older iPhone users directly in the App Store, with a pop-up banner advertisement that can be dismissed by tapping on "skip" in the top-right corner.

App Store banner advertising the iPhone 6s and iPhone 6s Plus
iPhones are one of the hottest gifts during the holiday shopping season, so it is unsurprising that Apple is pushing its latest smartphones at this time of the year alongside free shipping, extended returns and complimentary gift wrapping. Undoubtedly, though, the move will also stir discussion about iPhone sales.
Apple sold 48 million iPhones in the fourth quarter of fiscal 2015, up from 39.2 million in the year-ago quarter. iPhone 6s and iPhone 6s Plus sales topped a record 13 million during their launch weekend, but KGI Securities analyst Ming-Chi Kuo recently predicted the iPhone 6s may not outsell the iPhone 6.