Today at its "Hey Siri" special event, Apple announced a brand new program at its retail stores called the iPhone Upgrade Program. The program is designed for users who want to have the newest iPhone every year, and even comes with AppleCare+ included. Those who sign up for the program will be able to trade-in their current iPhone for a new model after 12 monthly installments are made, starting a new cycle of the program each year.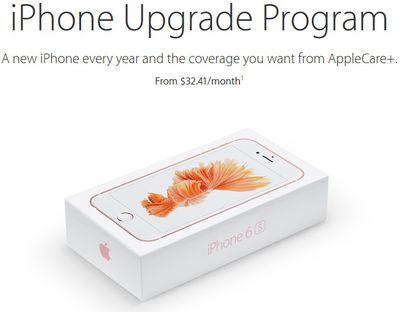 Users are given an unlocked iPhone and allowed to pick from AT&T, Sprint, T-Mobile, and Verizon, allowing customers to choose their current carrier or select a new one if they "don't have any carrier commitments." iPhone 6s users can expect to pay $32.41/month (16GB), $36.58/month (64GB), or $40.75/month (128GB) while on the service. Alternatively, those opting for the larger-screened iPhone 6s Plus will see slightly higher prices: $36.58/month (16GB), $40.75/month (64GB), or $44.91/month (128GB).
Users who are interested in using the iPhone Upgrade Program to finance a new iPhone 6s or 6s Plus can do so by making a reservation online starting at 12:01 PDT Saturday, September 12, the same day pre-orders for the smartphone go live. The reservation will allow you to hold a spot at the Apple Store of your choosing for an appointment in setting up a new iPhone 6s or 6s Plus with the Upgrade Program.