iPhone 6s and iPhone 6s Plus Sales Top Thirteen Million in Launch Weekend
Apple today announced that opening weekend sales for the brand-new iPhone 6s and iPhone 6s Plus have exceeded thirteen million units, breaking the previous record of ten million units sold by the iPhone 6 and iPhone 6 Plus last year.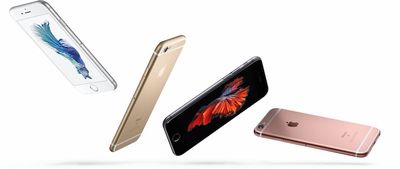 "Sales for iPhone 6s and iPhone 6s Plus have been phenomenal, blowing past any previous first weekend sales results in Apple's history," said Tim Cook, Apple's CEO. "Customers' feedback is incredible and they are loving 3D Touch and Live Photos, and we can't wait to bring iPhone 6s and iPhone 6s Plus to customers in even more countries on October 9."
The company claims, as with previous years, that demand for the new smartphones is at an all-time high, and confirmed that the new iPhones will be coming to 40 additional countries beginning on October 9, including Italy, Mexico, Russia, Spain and Taiwan.
- October 9: Andorra, Austria, Belgium, Bosnia, Bulgaria, Croatia, Czech Republic, Denmark, Estonia, Finland, Greece, Greenland, Hungary, Iceland, Ireland, Isle of Man, Italy, Latvia, Liechtenstein, Lithuania, Luxembourg, Maldives, Mexico, Monaco, Netherlands, Norway, Poland, Portugal, Romania, Russia, Slovakia, Slovenia, Spain, Sweden, Switzerland, Taiwan
- October 10: Bahrain, Jordan, Kuwait, Qatar, Saudi Arabia, United Arab Emirates
- October 16: India, Malaysia, Turkey
The company has stated it plans to have the iPhone 6s and iPhone 6s Plus in over 130 countries by the end of the year.
MacRumors has made a few hands-on videos showcasing some of the newer and upgraded iPhone 6s and iPhone 6s Plus features, including Live Photos, 3D Touch, and Touch ID. As more and more customers received their orders over the weekend, the first impressions of the new devices began to roll out, leading to a large consensus of a noticeably faster experience that feels largely different than most "S" generation iPhones.