Next-Generation iPhone Again Rumored to Have 12-Megapixel Camera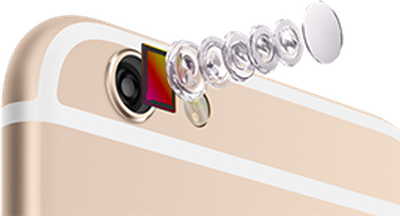 Kevin King, IHS Technology Research Director for China, claimed on Chinese microblogging service Weibo that Apple's next-generation iPhone will feature a 12-megapixel rear-facing camera with smaller pixels (via G4Games), corroborating the same prediction made by well-informed KGI Securities analyst Ming-Chi Kuo earlier this week.
Apple has used an 8-megapixel rear-facing camera sensor since the iPhone 4s was released in late 2011, so the megapixel bump will be the first in nearly four years if the pair of analysts are correct. Prior to that, the iPhone 4 had a 5-megapixel camera and the iPhone 3GS had a 3-megapixel shooter. Given that megapixels don't always matter, however, software improvements are often more important for image quality.
Last November, well-known Apple pundit John Gruber of Daring Fireball said the next iPhone could have "the biggest camera jump ever" with a dual-lens system that delivers DSLR-quality imagery, but a later report dismissed the rumor since Apple would need to redesign the current chassis of the iPhone 6 and iPhone 6 Plus, which is unlikely for this year's refresh based on the history of "S" models.
Apple's next-generation iPhones are rumored to retain 4.7-inch and 5.5-inch screen sizes, powered by an A9 processor with 2GB of LPDDR4 RAM and featuring Force Touch, improved Touch ID recognition, gesture control support, an additional microphone near the speakers for improved voice quality, a new rose gold color option, internal mechanical design changes and more.