Customers Lining Up At Boutiques Carrying Apple Watch Ahead of Launch
The Apple Watch isn't going to be available for sale tomorrow in Apple's retail stores, but there are a select handful of high-end fashion boutiques around the world that will be offering various Apple Watch models for sale.
One of the stores, Maxfield, is located in Los Angeles, and people are already lining up outside the store in the hopes of getting an Apple Watch on launch day. Maxfield is the only store in the United States that have the Apple Watch in stock on April 24.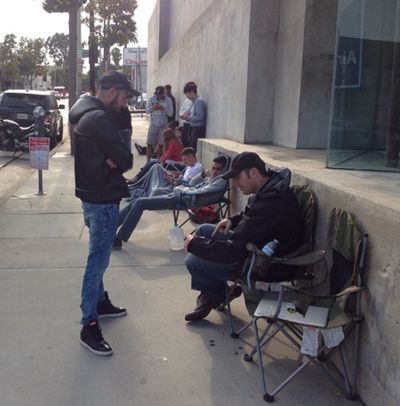 Line at Maxfield LA, image via Alidir8
Other stores that will have Apple Watch stock tomorrow include Dover Street Market in Tokyo and London, Colette in Paris, and The Corner in Berlin. It is not known how much stock each of these stores has available, but according to Dover Street Market's CEO, the Tokyo location will have 350 watches available for purchase, while Dover Street Market in London will have 570. Neither store is expected to have the Apple Watch Edition, but beyond that models in stock are unknown.
Though Apple's retail stores are not offering the Apple Watch for sale, there appears to be some confusion among customers. At Apple Stores in Australia, there were customers lining up outside of stores in the hopes of getting an Apple Watch.
According to
Apple retail chief
Angela Ahrendts, Apple Watch orders may not be available in stores for a month or longer as the company works to get all pre-orders delivered. Apple is
getting orders out rapidly
, however, and many customers who had 4 to 6 week shipping dates will be getting their devices tomorrow.