Apple Watch Will Be Available for Purchase at Select Boutique Stores on Friday
Apple doesn't plan to offer the Apple Watch for sale in its retail stores on Friday, having opted to restrict orders to online purchases only, but some retail stores around the world will have Apple Watches in stock for customers to purchase on April 24.
Several high-end fashion boutiques will be offering the watch for sale beginning Friday, according to a new report from The New York Times. Stores with stock will include Dover Street Market in Tokyo and London, Maxfield in Los Angeles, Colette in Paris, the Corner in Berlin, and 10 Corso Como in Milan.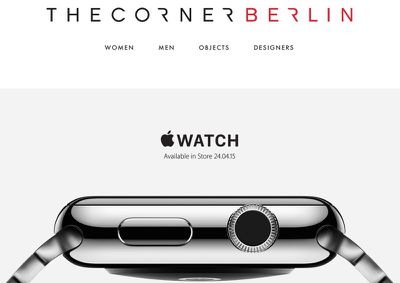 All of these stores were previously unveiled as retail locations that would carry the Apple Watch, but it was not known that the stores would have stock for customers to purchase on launch day, given the Apple Watch supply constraints that Apple has highlighted. In a press release sent out on April 9, Apple retail chief Angela Ahrendts said "strong customer demand" would exceed supply at launch.
Many of the stores have the Apple Watch displayed prominently on their websites, along with wording that says the device will be available in store as of Friday. As noted by The New York Times, all of the places that will have the Apple Watch in stock on Friday are high-end fashion-oriented boutiques known as "retail trendsetters."


It's not known exactly how much stock each of the stores will be given or of what type, but Dover Street Market did share some detail on its numbers. The store in Ginza, Tokyo will have 350 watches to sell, while the store in London will have 570. Neither store will offer the Apple Watch Edition, as it is backordered.
Apple initially declined to comment on its partner stores offering in-store Apple Watch stock while its own retail stores will not, but later reiterated its earlier comment on getting online orders out to customers earlier than expected. The first Apple Watch shipments will be arriving on the doorsteps of customers beginning on April 24, and as of today, many Apple Watch orders that had shipping estimates ranging into several weeks have seen their shipments advance into the "Preparing for Shipment" stage.