Adonit on Tuesday announced a new Jot Script Evernote Edition, a Bluetooth-enabled note-taking stylus for iPad that features a slimmer build, longer-lasting rechargeable battery and improved precision and app integration. The stylus has a better grip, upgraded Pixelpoint tip and improved palm rejection for a more precise experience with some of the best note-taking apps.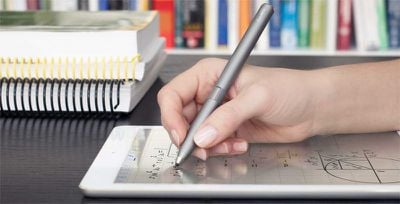 Specifically, the stylus is capable of faster stroke tracking, smoother line rendering, and better tip-to-line accuracy. It has a built-in USB lithium-ion rechargeable battery that delivers up to 20 hours of uninterrupted writing, with a full charge taking 45 minutes. The stylus must be paired with a Bluetooth 4.0 device, limiting its compatibility to the third-generation iPad and newer, all iPad mini models or iPhone 4s and newer.
The new Evernote Jot Script 2 stylus is available for $74.99 through Adonit or Evernote and includes Evernote Premium free for six months. The stylus is specifically designed for several note-taking apps on iPad, including Evernote, Forge, Notes Plus and GoodNotes, each of which can be found on the App Store. Pairing the stylus with an iPad is a seamless, one-time process using Evernote's Penultimate.