What to Expect at Apple's 'Spring Forward' Media Event
With just one day to go until Apple's "Spring Forward" media event in San Francisco, there are still plenty of unknowns about what the company will be showing off beyond a focus on the Apple Watch. As a result, we've put together this summary of what we expect to see, what we might see, and what we probably won't see at the event.

Apple Watch
Given the time-related tagline of "Spring Forward" and today's start of Daylight Saving Time in the United States, it's clear the Apple Watch is the focus of tomorrow's event. We got a first look at the device last September, but now with just a month to go until launch, it's time for Apple to provide final details and shape the marketing message. Expect more details on launch dates and pricing of course, as well as some updates on performance aspects such as battery life.
Also expect apps to play a significant role in the event, with Apple allowing a few developers to show off what they've been able to accomplish over the past few months since guidelines and developers tools for the device were made available.
Pricing will undoubtedly be one of the most interesting topics to be covered, with the company so far refusing to disclose any information beyond a $349 starting price.
Daring Fireball
's John Gruber has
made his final predictions
, arguing the stainless steel Apple Watch collection will be more expensive than people think.
[T]he steel Apple Watch, that's something that most people still look at as for them. And so they expect the starting price to be around $500, and the various leather and metal band options to cost $100-300 more.

But if the starting price for the steel Apple Watch is $500, I don't see why Apple Watch Sport exists at $350. $150 difference does not justify the difference. If they were that close in price, there'd only be one of them. [...] With Sport and steel Apple Watches, everything you can see or touch is different. Different metal (aluminum vs. steel), different finishes (matte vs. highly-polished), different displays (glass vs. sapphire), different case backs (plastic vs. ceramic and sapphire).
With that in mind, Gruber predicts the steel Apple Watch collection will start at $749 while the gold Apple Watch Edition collection starts at $7500. He expects Apple will charge a small premium for the 42mm size compared to the 38mm casing, and various band options will quickly drive up the cost of the steel and gold models.
Gruber is of course only one voice among many who are speculating about pricing, but he offers a clear and thorough argument for his pricing predictions, serving as a solid basis for debate and discussion.

Possibilities
With the Apple Watch undoubtedly being the main attraction tomorrow, the question becomes just how much Apple is willing to have the watch share the spotlight with other announcements. Here are a few of the possibilities for additional announcements:
11" and 13" MacBook Air
There have been rumors about an imminent update to the current MacBook Air line for several weeks now, and a leak from late last week claimed to share system information from a new 13-inch model and general details on the rest of the 13-inch lineup. The 11-inch MacBook Air would undoubtedly also receive an update, as it uses the same processors and other components as its larger sibling.


The updates would be modest ones, involving a shift to Intel's latest Broadwell processors that were launched in January. General specs otherwise appear to be the same as the current generation, with 4 and 8 GB RAM options and 128/256/512 GB flash storage configurations.
13" Retina MacBook Pro
While we haven't seen any specific claims of an imminent update to the Retina MacBook Pro lineup, there are a few signs that one could be coming, at least for the 13-inch portion of the family. As with the MacBook Air, Broadwell chips for the 13" Retina MacBook Pro were released in January, suggesting a release could come at any time.
And on Friday, shipping estimates for all base configurations of the MacBook Air and 13-inch Retina MacBook Pro in Apple's online store slipped from "in stock" to "1 business day". It's not much of a move, but with the change applying to a logical set of machines ready for possible updates and the delay coinciding with tomorrow's event, it's easy to speculate about an imminent refresh.
Given that the MacBook Air and 13-inch Retina MacBook Pro updates are fairly minor, it's possible Apple could simply quietly update them without a mention at Monday's event.
The 15-inch Retina MacBook Pro is not yet ready for an update, as the higher-power Broadwell chips for that machine are not expected to launch until mid-year.
12" Retina MacBook Air
It looks like this one needs to be filed away in the "possible but unlikely" category for the time being. Rumors of an even thinner MacBook Air with a 12-inch Retina display have been circulating for some time now, but the latest rumor says shipments of the machine from suppliers aren't scheduled to start until the second quarter.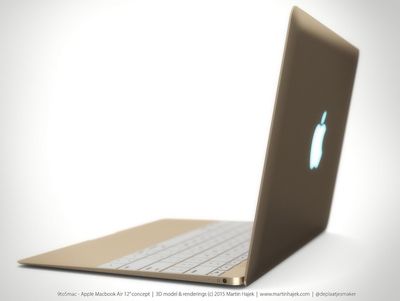 Assuming this is accurate, Apple technically could introduce the machine at tomorrow's event but not begin shipping until next month when the new quarter starts. There appears, however, to be little reason for an early announcement that would have to share the limelight with the Apple Watch, and an April launch for the machine would also bump up against the Apple Watch debut.
As a result, it appears more likely we'll see an unveiling of the Retina MacBook Air at Apple's Worldwide Developers Conference in early June, with shipping beginning shortly after to meet the "second quarter" timeframe.
iPad mini
Here's another one that should be considered unlikely: a new iPad mini 4. There's a single report of a possible update from Japanese site Mac Otakara, which has offered accurate information in the past, but even the report's author expresses skepticism about this one. The update would include a move to an A8 chip and 802.11ac Wi-Fi, bringing it more in line with the iPad Air 2's specs.
In trying to justify the possibility of a mid-cycle update for the iPad mini, it's easy to look back to the introduction of the iPad mini 3 in October, which was viewed as a significant disappointment by many fans of the smaller tablet. Unlike the iPad Air 2, which received significant upgrades, the iPad mini 3 was unchanged from the iPad mini 2 with the exception of Touch ID and a new gold color option.
Still, we'd have expected more rumors and leaks if a significantly upgraded iPad mini was on the way.

Not Ready Yet
Apple has a number of other major updates to its products and services in the works, according to rumors, but several prominent ones appear to not be ready for launch yet. The first is the so-called "iPad Pro", a 12.9-inch tablet that has been rumored for some time but yet to come to fruition. The latest report says Apple's internal timeline for the project has been pushed back due to difficulties with display production, and Apple is reportedly now looking to begin mass production in September, perhaps for launch in October as part of the company's usual iPad refresh event.
Another topic of conversation has been Apple's plans for its Beats Music service acquired last year, with the company said to be working to revamp Beats and fold it into the iTunes brand. "Industry scuttlebutt" last year had indicated Apple was shooting to launch the revamped service around February, but it now appears a debut will come at WWDC in June. A revamped Apple TV has also been rumored to be in the works for quite some time, but does not yet appear to be ready for launch.

Coverage
Apple's media event kicks off at 10:00 AM Pacific Time tomorrow, and the company will be offering a live video stream. MacRumors will also have full coverage of the event, with a live blog on our front page and updates going out on our @MacRumorsLive Twitter account. We'll also have specific coverage of tomorrow's announcements in separate news stories, and our forums are a great place for readers to discuss the announcements before, during, and after the event.