Upcoming Ultra-Thin 12-Inch MacBook Air Design Imagined in New Renderings
Following a set of artist renditions that gave fans a basic look at Apple's long-rumored 12-inch Retina MacBook Air earlier this week, well-known 3D modeler and designer Martin Hajek has created a set of realistic renderings of the unannounced notebook on his blog.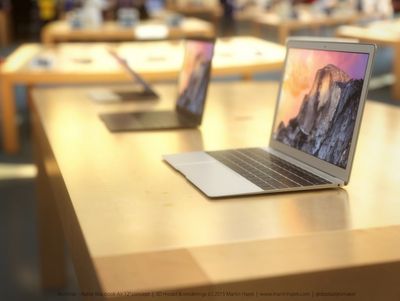 Hajek follows details found in previous reports of the machine, creating the model with an edge-to-edge keyboard relocating the on-board speakers to grilles above the keyboard. Though the display will be 12 inches diagonally, the new MacBook Air will keep roughly the same footprint as the current 11-inch model thanks to slightly narrower bezels surrounding the screen.


Apple's further attempt to thin out the next generation of MacBooks continues in the Retina MacBook Air's alleged lack of a USB and MagSafe ports, amongst other traditionally expected inputs. The new MacBook will reportedly have just two ports: a headphone jack and a USB Type-C Port, alongside a pair of microphones lining the sides of the device.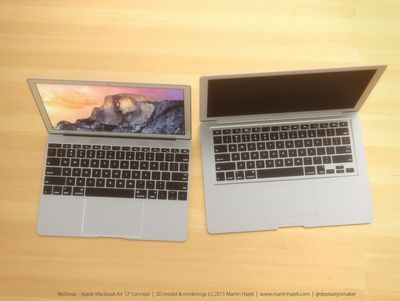 Hajek's renderings also mirror rumors suggesting the Retina MacBook Air will come in multiple color options that include the same Space Gray, Gold, and Silver colors the company has used since the iPhone 5s. Apple has yet to comment on the rumors swirling around the device, though supply chain sources believed the 12-inch MacBook could enter production sometime in early 2015. The full suite of Hajek's renderings can be found on his blog.