Apple Delaying Production on Larger-Screened 'iPad Pro' Until September
Apple has opted to delay production on the rumored larger-screened "iPad Pro" due to issues with display panel supply, reports Bloomberg. Manufacturing on the tablet will reportedly begin in September, rather than earlier in the year.
Production of the 12.9-inch-screen iPad is now scheduled to start around September because of delays involving the supply of display panels, said one of the people, who asked not to be identified because the details aren't public. Apple had initially planned to begin making the larger version this quarter, people familiar those plans had said.
This isn't the first time that rumors have hinted at delays for the iPad Pro. Apple was said to be targeting an early 2015 release date for the tablet last year, but those plans were reportedly put on hold. Back in October, The Wall Street Journal said that Apple had opted to delay mass production on the iPad in order to focus on iPhone 6 Plus production, and in November, KGI Securities analyst Ming-Chi Kuo said production could be delayed until Q2 2015 because of difficulties related to the production of display components. With production delayed until September, the tablet could see a release in late 2015.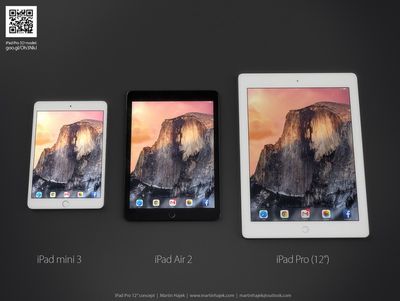 Apple is planning to use the "iPad Pro," as the media calls it, to boost its flagging iPad sales. The tablet is expected to measure in somewhere between 12.2 and 12.9 inches, dwarfing both the 9.7-inch iPad Air 2 and the 7.9-inch iPad mini 3.
It may be targeted at the enterprise market, and rumors have suggested it could sport an "ultra" high-resolution display and stereo speakers at the top and bottom edges of the device for an improved audio experience. It may also ship with an optional stylus accessory.