MacBook Air and 13" MacBook Pro Shipping Times Slip Ahead of Monday's Media Event
MacBook Air and 13" Retina MacBook Pro shipping times have slipped on the Apple Online Store from "in stock" to "1 business day" ahead of Apple's upcoming "Spring Forward" media event on Monday. Earlier this week, we reported that a MacBook Air refresh with the latest Intel Broadwell processors and Intel HD 6000 graphics appears imminent, and it is plausible that Apple also updates the MacBook Pro with similar hardware.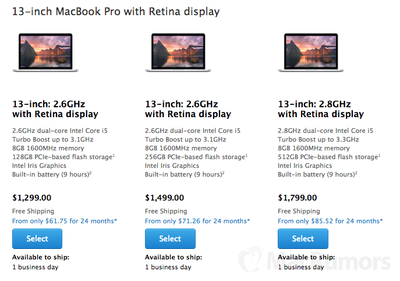 The shipping dates have slipped across North America, with the Apple Online Store in the United States, Canada and Mexico showing the longer "1 business day" estimate. A spot check of the United Kingdom and Australia online storefronts still shows regular shipping times. In-store availability of the MacBook Air and MacBook Pro in the also appears unaffected in the United States based on Apple Stores in New York and California.


Intel's Broadwell processors are available for all MacBook Air models and the 13-inch MacBook Pro, although more powerful chips for the 15-inch MacBook Pro are not expected until later this year. Nevertheless, Apple may choose to focus its March 9 media event solely on the Apple Watch and could hold off on refreshing its MacBook Air and MacBook Pro lineups until a later date.