Apple Working With Swatch for iWatch With Multiple Designs, Price Points?
Apple may be working with manufacturing partners like Swatch to create multiple versions of the iWatch that are available in a range of styles and price points, according to a questionable report from VentureBeat, citing a source with knowledge of Apple's plans.
While most Apple-watchers and media have been laser-focused on one or two "iWatches" from Apple itself, the Cupertino, Calif.-based electronics and media giant may actually be working a number of partners in the watch business.

Apple and its partners will offer a family of smartwatches to suit all tastes "from geek to chic," our source says.
VentureBeat suggests it is possible that Swatch may be involved in building one or more of Apple's smart watches, and the site's source also believes Apple may be teaming up with Timex as well. Watches from third-party manufacturers would likely accompany an iWatch of Apple's own branding, according to the source.
A possible partnership with Swatch or another watch maker would seemingly go against many of the existing iWatch rumors, which have indicated that Apple is building its own wrist worn device with multiple screen sizes up to 2.5 inches and an array of complicated health sensors.
Apple has also hired a massive team of health and fashion experts to work on the iWatch, suggesting much of the development work is in-house. Thus far, there have been few hints on what the iWatch might look like, so there is a possibility that Apple could use something of a modular design, with a screen able to integrate with bands from multiple companies.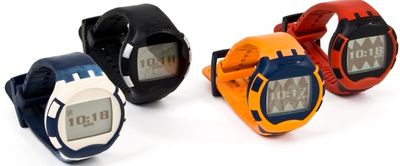 The Swatch Paparazzi, a 2004 smart watch created in collaboration with Microsoft


Some reports, including a prediction from KGI Securities analyst Ming-Chi Kuo, have indicated Apple will produce the iWatch in a variety of materials and at multiple price points to satisfy a wide range of tastes. Apple is also said to be marketing the iWatch as a fashion accessory, but thus far other reports have not pointed towards third-party design partnerships.
Tim Cook yesterday suggested partnerships are "unusual" for Apple, speaking about the company's recent decision to team up with IBM. He emphasized that Apple's IBM partnership was possible because the two companies do not compete with each other, which is not the case with Swatch.
Last year, Swatch CEO Nick Hayek also had some negative things to say about an Apple iWatch, stating "I don't believe it's the next revolution." Swatch does have some limited experience with smart watches, however, having previously teamed up with Microsoft to offer the Swatch Paparazzi smart watch.
According to Hayek, Apple and Swatch have been in contact for multiple years over materials for products and energy harvesting technology, but in March, Hayek clearly stated that Swatch was not interested in forging a partnership with a company manufacturing wearable devices, including Apple, which casts doubt on today's report.
Apple is expected to introduce the iWatch in October.