FCC Filings Reveal Apple's First-Party iBeacon Hardware
FCC filings discovered by electronics company Securifi (via TUAW) have revealed Apple's plans for first-party iBeacon hardware to go along with the microlocation technology found in iOS. The transmitter is registered as the "Apple iBeacon" and carries a model number of A1573, which is in line with the company's other products.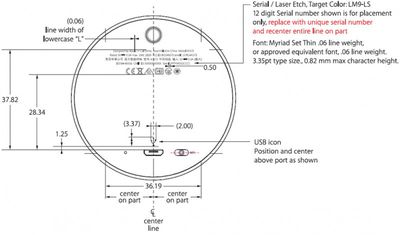 According to the documents filed by Apple, the iBeacon was tested in collaboration with China-based Audix Technology from April 30 to May 13, 2014. The beacon tested has a diameter of 5.46'' and has a highest working frequency of 2.4GHz, which is in line with modern Bluetooth standards.
Originally introduced at WWDC 2013, iBeacon technology enables iOS devices to communicate with transmitters through Bluetooth in order to deliver relevant information to apps and services when a user is nearby. Apple introduced a "Made for iPhone" iBeacon specification in February, signaling a more primary role for the technology in its devices and services.
So far, however, companies have used third-party transmitters, like the Estimote Beacon to work with the technology and iOS devices. Shopping app Shopkick and Macy's partnered during the holiday season last year to integrate the technology into stores, while Major League Baseball and the National Basketball Association have used iBeacons to enhance live events.
Apple has also integrated iBeacons into its own retail stores to notify customers about picking up online orders and special upcoming events. Internationally, Virgin Atlantic integrated iBeacons into London's Heathrow Airport to notify users of promotional deals and areas of interest.
While it is unknown as to whether Apple will actually launch iBeacon hardware or not, the product could integrate with the company's other platforms and services. Apple's iBeacon could be the company's first product to integrate with its HomeKit initiative, which allows home automation devices and their apps to work with iOS.
It is likely that HomeKit integrated hardware would come further down the roadmap in Apple's future product lineup, as that lineup is expected to include the iWatch, perhaps a 12-inch Retina MacBook Air and a next-generation Apple TV.