Apple's iBeacon Gains 'Made For iPhone' Specification
Apple has implemented a new iBeacon specification and has begun certifying Bluetooth LE devices that utilize its iBeacon API under its Made For iPhone (MFi) program, according to a new report from Beekn.
iBeacons are physical Bluetooth low-energy transmitters that use Apple's iBeacon API to provide micro-location information to nearby apps and devices, with an accuracy range of a few feet. iBeacons are compatible with Apple's iPhones and iPads, as well as other devices that use Bluetooth LE, and have thus far been used primarily by retailers and other venues to provide location-specific information.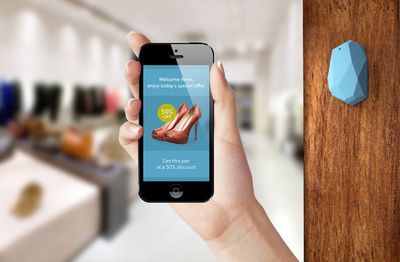 In order to use the iBeacon name, manufacturers now need to have their devices approved by Apple as part of the MFi program, similar to accessories and hardware for iOS devices. Using the term iBeacon requires manufacturers to meet specific criteria, which are only available after a non-disclosure agreement has been signed.
The new specification gives Apple more control over the iBeacon trademark, which has previously been used by several different manufacturers for various Bluetooth LE devices since iBeacons were introduced in June of 2013. It is no longer possible to use the iBeacon brand without consent from Apple.
As we've noted elsewhere, beacons that carry the iBeacon name are conforming to two things:

- They broadcast Bluetooth LE 'signals' in a way that conforms to the Apple standard for what those signals should contain
- They have use of the iBeacon trademark
Since being introduced last year, iBeacons have been used by multiple retailers and venues in order to enhance visitor experiences in retail outlets, sports arenas, and other locations. Apple has rolled out iBeacons to its own stores as well, providing location-based product information to customers.