Virgin Atlantic to Integrate iBeacon Technology Into London's Heathrow Airport
Virgin Atlantic is reportedly gearing up to integrate Apple's iBeacon technology into London's Heathrow Airport, according to Re/code. The airliner will be using beacons sourced from startup Estimote, as the transmitters will be deployed near businesses and terminals to notify users of promotional deals and areas of interest.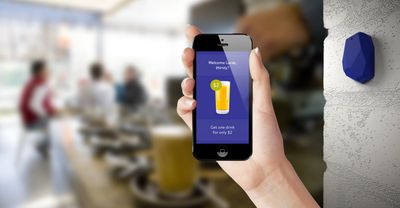 In one use case, passengers would receive an offer on their phone for no-fee currency exchange as they near that place of business. The program, which will utilize Apple's iBeacon technology and the Passbook iOS app, follows a trial in which airline employees donned Google Glass as they greeted first-class passengers upon entering the airport.
First introduced during Apple's 2013 Worldwide Developers Conference, iBeacons enable iOS devices to wirelessly communicate with physical beacons through Bluetooth, as the transmitters are able to deliver specific information to apps when a user is nearby.
iBeacon technology has also been utilized in a number of unique ways since the end of 2013. Shopping app Shopkick and Macy's teamed up to integrate the technology into stores to aide consumers, while Major League Baseball and the National Basketball Association have used iBeacons to provide enhanced in-stadium experiences. Apple has even implemented iBeacons into its own retail stores to provide customers with product information and deals, while a London-based cafe and the Consumer Electronics Show have also featured the technology.