iBeacon Technology Begins Moving Into the Home and NBA Arenas
Apple's iBeacon technology is poised to influence the retail sector by offering a personalized shopping experience to customers, but it may also have personal benefits by interacting with apps when a user is at home.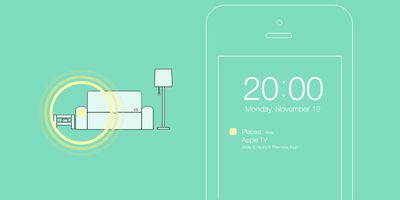 As spotted by TechCrunch, new iOS app Placed gives us a glimpse into personal iBeacon usage, linking an incoming iBeacon signal to apps associated with common household activities. With appropriately placed iBeacons, you could enable the remote when you sit on the couch or start a timer when you step up to the oven to cook.
It's an early implementation of iBeacon technology as the app integration is only partially automated, sending a notification to your phone that requires you to manually launch an app before anything happens. It an interesting use of iBeacon technology, though, and a small step towards a wider use of iBeacons the automated home.
Besides personal and retail use, iBeacon technology also is being used in sports to assist fans and add to the overall game experience. The Golden State Warriors became the first NBA team to adopt Apple's iBeacon technology, installing the Bluetooth transmitters in the team's home arena, reports
Business Week
.
The iBeacon technology is being used to boost ticket sales by prompting fans to upgrade their tickets as they make their way to their nosebleed seats inside Oracle Arena. The Warriors, as well as other sports teams, already offer seat upgrades through their mobile apps, but this is the first time iBeacons have been used to boost ticket sales in this way.