Survey Shows Strong Consumer Interest in Larger-Screen iPhone 6
Research firm ChangeWave (via Fortune) has released the results of a new survey, showing that interest among early-adopter and professional consumers in a larger-screen iPhone 6 is at an all time high.
40% of respondents indicated they are 'very likely' or 'somewhat likely' to buy an iPhone 6 that is described as having a "larger screen size" and a "faster processor" along with an "updated iOS operating system" at a starting price of $199 with a two year contract.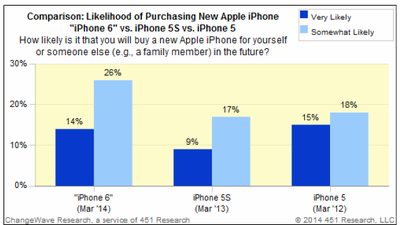 "This is the highest level of demand for an unannounced Apple model in a ChangeWave survey – stronger than we've seen in previous years for the iPhone 5S and iPhone 5 models prior to their announcements," said Andy Golub of 451 Research. "Speculation over a larger screen iPhone is clearly striking a chord with consumers."
Internal memos from the second ongoing trial between Apple and Samsung indicate that Apple is eager to release a larger phone, as a slide deck from an April 2013 presentation showed that customers want less expensive and notably, larger screen smartphones.
Apple will likely unveil its next-generation iPhone later this year, as it has done with previous models. Unlike past iterations however, the iPhone 6 may come in two versions, including one with a 4.7-inch screen and another with a larger 5.5-inch screen that will be released later.
In addition to a larger display, the iPhone 6 is expected to feature a narrower bezel that surrounds a thinner design along with a faster A8 processor and an upgraded camera. According to a research note from well-sourced KGI Securities analyst Ming-Chi Kuo, the high-end models of the iPhone 6 may also feature a durable, sapphire display as Apple is expected to become temporarily limited by the low supply yields of the material.