Mass Production of 4.7-Inch iPhone 6 Set for July, 5.5-Inch Version Beginning in September
According to Japanese website EMSOne [Google Translate, via G for Games] citing Taiwan's Industrial and Commercial Times, Apple is planning to begin mass production of the 4.7-inch iPhone 6 in July with the larger 5.5-inch version to enter mass production in September.
The report notes that both versions of the next-generation iPhone will go on sale at some point during the fourth quarter of this year, with the 4.7-inch iPhone being announced and released earlier than the 5.5-inch iPhone.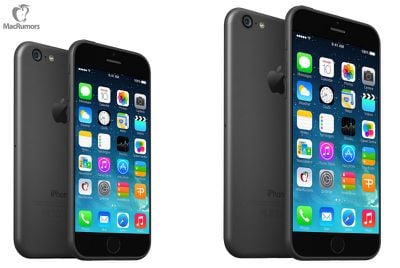 The news comes as a report from Reuters last month stated that Apple would begin production of the 4.7-inch display to be used in the iPhone 6 this May for the device's release this fall. The report also noted that the 5.5-inch version of the iPhone 6 would be delayed due to difficulties with in-cell production technology, and would start production several months after the 4.7-inch version.
A report last month from Japanese newspaper Nikkei stated that the iPhone 6 could launch "as early as September" and will be offered in 4.7-inch and 5.5-inch display sizes. This contrasted a claim from UBS analyst Steve Milunovich, who said that the 4.7-inch version of the iPhone 6 might be the only model to launch later this year, as a timeframe for the larger 5.5-inch version was unclear.
Internal documents from the second ongoing trial between Apple and Samsung also indicate that Apple is poised to release a larger phone, as a slide deck from an April 2013 presentation showed that customers want less expensive and most notably, larger screen smartphones.
In addition to a larger display, Apple's next-generation iPhone is expected to feature a durable, sapphire screen, and a thinner, bezel-free design in addition to processor and camera upgrades.