Apple Likely to Slim Down iPhone and iPad with Thinner and Lighter Backlights
As Apple continues its quest to make its iOS devices thinner and lighter, the company will take advantage of advancements in LED backlighting technology to shift to thinner components for the iPhone 6 and upcoming iPad models, according to a report from LEDinside, a division of research firm TrendForce.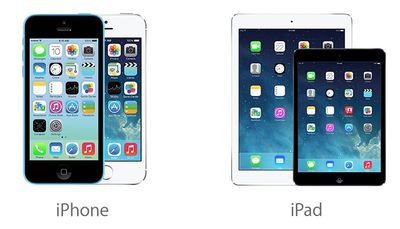 The report notes that a thinner design will see Apple shifting from 0.6 mm thick side-view LED backlights to 0.4 mm thick modules, but also questionably claims that the iPhone 6 will arrive in June. The iPhone 6 is generally expected to arrive in the same September-October timeframe seen in recent years.
According to sources from Apple supply chain, the iPhone 6 is likely to be released in June 2014, and will have larger monitor size of 4.7". Industry insiders also projected the iPhone 6 will have a much lighter frame, which will lead to upgrades in LED backlight specs. In the previous generation, the iPhone used 0.6t side-view type LED, in contrast the new iPhone will probably be adopting 0.4t side-view type LED.
Apple has been rumored to be increasing display size for the iPhone 6, and while LEDinside's report only mentions a 4.7-inch model, a number of other claims have included an even larger model at 5.5-5.7 inches. Larger displays will undoubtedly lead to larger device bodies, but that extra height and width could give Apple more room to spread out components and reduce device thickness from the current 7.6 mm of the iPhone 5s, and thinner backlights could aid that goal in an industry where fractions of a millimeter count.
LEDinside claims that similar changes are coming for the iPad, particularly with a rumored 12-inch model. According to the report, new iPads will see their backlights shift to 0.6 mm thick modules from the current 0.8 mm components.