iPhone 6 Could See Sleep/Wake Button Move, 401 ppi in 5.5" Model, Sapphire Display in High-End Phones
In an extensive research note, the well-sourced KGI Securities analyst Ming Chi-Kuo has shared additional details about his expectations for the next iPhone model, expected to be called the iPhone 6. Perhaps the biggest change that Kuo mentions is a move of the sleep/wake button from the top of the iPhone to the side, to better facilitate one-handed operation on larger iPhones.
In line with previous rumors, Kuo believes the new 4.7-inch model will come with a 1334x750 Retina display at 326 pixels per inch, while the 5.5" will see a 1920x1080 screen at 401 ppi. Both devices will have the same aspect ratio to the iPhone 5, meaning apps will not need to be redesigned for the second time in three years.
The iPhone 6 will include a new A8 processor, 1GB of RAM, Touch ID, a narrower bezel by 10 to 20 percent, and the phone to be thinned to 6.5-7.0mm (the current iPhone 5 is 7.6mm thick). He also expects Apple to finally include NFC chips in its smart phones.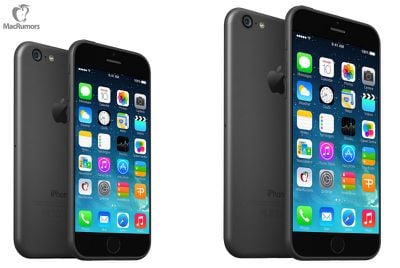 For the 4.7", Kuo says the narrower bezel will still allow one-handed operation along with a better visual experience because of the bigger screen. He believes shipments could approach 60 million units by the end of the year.
The 5.5" phone won't be operable with one hand, but Kuo says some smartphone users prioritize the visual experience over one-handed use. He believes the more profitable phone it could cannibalize sales of the iPad mini, as well as smaller tablets and phablets form competitors. He expects the 5.5" iPhone 6 to debut later in the holiday quarter, with shipments just below 9 million units for the year. The 5.5" iPhone will also see a significantly larger battery -- 50% to 70% more watt-hours than the iPhone 5s -- to power the larger screen, and also because there will be more real estate inside the case. It's unclear if the larger screen will utilize all the extra battery or if device life will improve.
Kuo says only high-end iPhones -- like the 64GB 5.5" iPhone 6 -- may include a sapphire screen cover due to supply constraints, though he says the company will want to begin integrating Touch ID sensing into the screen in the future and will need sapphire glass for accuracy.
He expects the iPhone's rear camera to remain at 8 megapixels and f2.2 aperture, but it will see an adoption of optical image stabilization technologies to improve image quality without increasing pixel number, a frequent goal of Apple's in the past. Finally, Kuo expects production of the iPhone 4s and 4 to be ended, with the iPhone 5s and 5c filling as the more inexpensive options in Apple's smartphone lineup.