Apple Awarded Patent Detailing Unique Curved Touch Sensor
Apple has been awarded a patent by the U.S. Patent and Trademark Office (via AppleInsider) detailing a manufacturing technique applied to the production of curved touch sensors to be used in existing components such as displays, touch pads, and touch mice.
The patent, which was filed in November 2010, introduces itself by describing the problem with existing touch sensor panels, stating that they are sometimes difficult to produce because of their thinness, which leads to a risk of damaging panel components. The technology in the patent however, details a curved sensor benefiting from increased strength and enhanced viewing properties without warping or deformation to the surface during initial assembly.
By depositing and patterning thin film, for example, on substrate while in a flat state, and then annealing, for example, the thin film when the substrate is joined to a forming substrate, the substrate can be curved to a desired curvature. Further, thin film can receive the benefits of the annealing process, such as increased strength and conductivity and enhanced optical properties, without undesired warping or deformation to the substrate.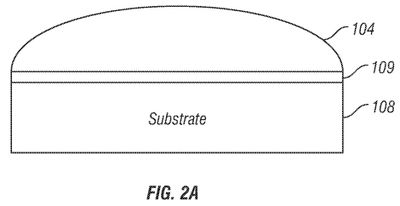 In detail, the patent states that while some current electronics appear to have curved displays, the devices in question suffer from a degraded touch sensitivity because of the distance between the cover glass and the actual drive and sense electrodes in the device due to current manufacturing techniques.


Meanwhile, Apple describes its manufacturing process as allowing the thickness of a curved touch sensor panel to remain constant, with touch sensitivity remaining high since the distance between the cover glass and thin film is akin to flat touch sensor panels that have a high amount of touch sensitivity.
It is unknown exactly how or even whether Apple plans to utilize this technology in its products, but competitors such as Samsung and LG have already touted curved displays as key features in their products such as the Galaxy Round and the G Flex, respectively.
Apple is also said to be testing larger-screen iPhone prototypes with curved displays, as well as enhanced touch sensors for later models. Earlier this year, an Apple patent application describing a flexible wraparound display for devices such as the iPhone was published, further stoking rumors of such a feature making its way into the next iPhone.