Larger-Screen iPhone Rumors Continue with 4.9-Inch iPhone 6, iPhone 5c Successor
According to Chinese site
C Technology
[
Google Translate
, via
Unwired View
], Apple has begun testing a next-generation iPhone prototype with a 4.9-inch display, along with an iPhone 5c successor sporting a larger screen. The claim is somewhat different from one
made by Bloomberg
earlier this month stating that Apple was developing two next-generation iPhones that would feature curved displays at 4.7 and 5.5 inches, although it is likely that the company is testing various screen sizes as it often does during a development cycle.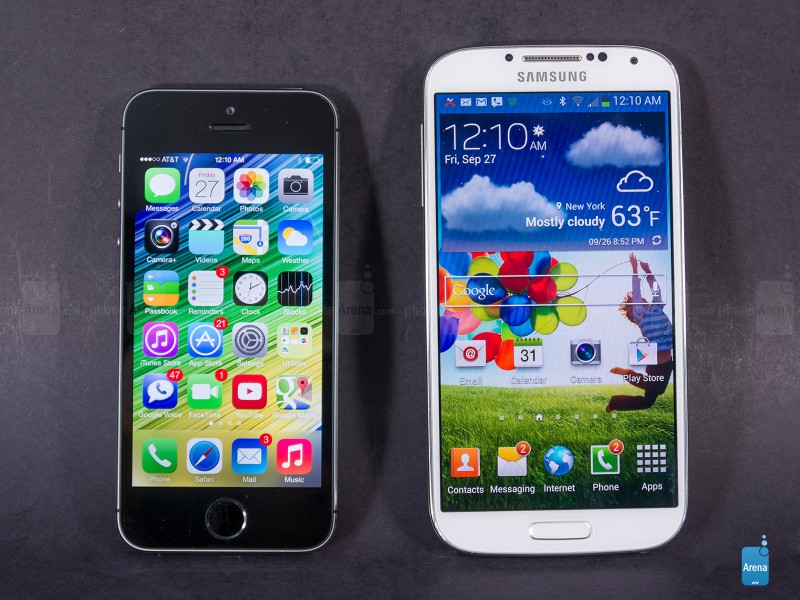 4-inch iPhone 5s vs. 4.9-inch Samsung Galaxy S4 (Source: phoneArena.com)
Rumors of an iPhone featuring a significantly larger screen have surfaced occasionally throughout the past couple of months, with
The Wall Street Journal
reporting in
July
and
September
that Apple had begun testing prototype iPhones with screens as large as six inches, and a report last month from NPD DisplaySearch
speculating
that Apple may release both a 4.7-inch and a 5.7-inch iPhone in 2014.
Currently, Apple's
iPhone 5s
and
iPhone 5c
both feature 4-inch Retina displays, compared to competitors like Samsung's Galaxy S4 that feature 5-inch displays.
MacRumors
released
a printable papercraft version of a 5-inch iPhone back in February of this year after other rumors of a larger iPhone surfaced.