Apple Researching iPhone Designs With Flexible Wraparound Displays
The U.S. Patent and Trademark Office today published an Apple patent application (via AppleInsider) offering an interesting glimpse at the possibility of an iPhone or other mobile device using a flexible display contained within a transparent body body such as a glass tube or other shape. The display would be able to wraparound the sides and even rear of the device as needed in order to provide more viewable area.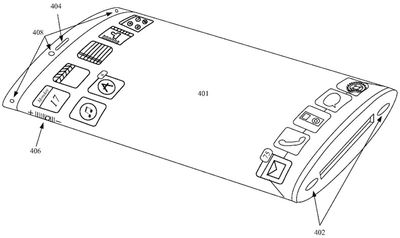 This paper describes various embodiments that relate to an apparatus, method, and computer readable medium for creating a portable electronic device with a wraparound display.

In one embodiment, a consumer electronic product is described. The consumer electronic product includes at least a transparent housing and a flexible display assembly enclosed within the transparent housing. In the described embodiment, the flexible display assembly is configured to present visual content at any portion of the transparent housing.

Alternative device shapes
As part of the patent application, Apple explores a variety of options for such devices, including multiple form factors and the potential use of a second inner display underneath a transparent outer display to provide the illusion of 3D content. Apple also suggests the possibility of interchangeable end caps to fit specific situations, including joining multiple devices together to make a single larger screen.


The patent application, which was filed in September 2011, is credited solely to Apple product design engineer Scott Myers. The concept of a flexible wraparound display for the iPhone or other mobile device is reminiscent of another Apple patent application which surfaced last month showing a slap bracelet accessory with a wraparound display that could clearly serve as a smart watch. Myers was one of three Apple engineers credited on that patent application, which was filed in August 2011.