In-Store Pickup Option for U.S. Online iPhone 5s Orders Resumes
Last Monday, Apple began offering in-store pickup for online orders of the iPhone 5s and iPhone 5c, despite extreme shortages of the iPhone 5s following its launch the previous Friday. Just a day later, Apple halted the in-store pickup option for the iPhone 5s, perhaps because of the lack of supply.
But in line with a report from late last week, Apple has now resumed in-store pickup for the iPhone 5s, allowing customers to check availability at their local retail stores when placing orders.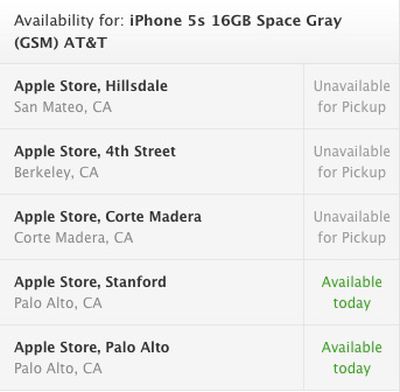 Availability remains extremely tight, with very few stores showing any stock of most models. As has been the case since launch, silver and gold models are seeing very limited supplies, but even space gray models remain unavailable for in-store pickup at most locations.
Apple continues to quote "October" shipping estimates for all new online orders in countries where the iPhone 5s has launched, suggesting that the company is still experiencing some uncertainty about how quickly it will be able to meet demand. The first minor expansion in availability of the iPhone 5s and iPhone 5c is set occur tomorrow when Virgin Mobile USA and a number of regional carriers in the U.S. and Canada are scheduled to begin offering the devices.