Apple Reportedly Prepping for September Launch of New iPad, but iPad Mini Still in Flux
Digitimes reports that Apple has finalized plans for its fifth-generation iPad, targeting a September launch for the redesigned device that is rumored to be taking design cues from the iPad mini with narrower side bezels and a thinner body.
Since upstream suppliers have mostly finished preparing for the production of the new 9.7-inch iPad, there is unlikely to be any changes in terms of specifications for the device. [...]

Although suppliers have not yet received a firm mass production schedule from Apple and are mainly shipping products for pilot production, the sources pointed out that pilot production is already able to satisfy demand for the initial launch. Therefore, the sources expect Apple to give its shipment estimates at the end of July or early August.
The report indicates, however, that plans for the next-generation iPad mini remain unsettled, with Apple still working to incorporate a Retina display into the device. If the company does elect to bring a Retina display to its next iPad mini, the device could see a launch very late this year. The report also indicates that Apple has been pushing to reduce the width of the iPad mini's side bezels even further.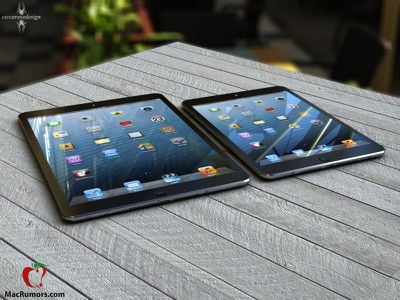 Mockup of fifth-generation iPad next to iPad mini
Today's claims are very similar to ones made in an
early June report
from
Digitimes
indicating updated iPad and iPad mini models may not appear simultaneously, with the iPad mini trailing the iPad by several months.
KGI Securities analyst Ming-Chi Kuo has also indicated that issues related to a Retina display were likely to result in a later-than-expected launch for the next iPad mini. Kuo's modeling back in April had estimated that the device could be updated some time in the September-November timeframe, while he believed that the full-size iPad would see shipments ramping in August or September.
Analysts at NPD DisplaySearch have also been expressing uncertainty about Apple's plans for its second-generation iPad mini, with their most recent report last month indicating that they expect Apple to launch a thinner non-Retina iPad mini late this year, with a Retina update coming relatively soon after in early 2014.