iPad Mini Update to Trail Next Full-Size iPad Launch by Several Months?
Late last year, Apple introduced the iPad mini alongside an update to the full-size iPad lineup, with many observers believing that Apple would continue to update the two lines simultaneously going forward.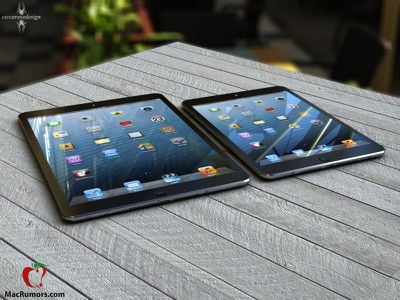 Mockup of fifth-generation iPad next to iPad mini
A
new report from Digitimes
claims, however, that the next-generation iPad may appear as much as several months before the next version of the iPad mini.
Volume production of a new-generation 9.7-inch iPad will begin in July-August with shipments in the third quarter estimated at five million units. Meanwhile, a second-generation iPad mini may see its volume production postponed from September to November, according to Taiwan-based supply chain makers.
The updated full-size iPad is widely expected to see a significant redesign that will take design cues from the iPad mini and be roughly 15% thinner and 25-33% lighter than the current models.
Digitimes believes that Apple may be pushing back the next iPad mini launch in part to give more focus to the redesigned full-size iPad in the face of the iPad mini's popularity, but also due to mass production issues with the iPad mini, which has been rumored to be gaining a Retina display. Today's claims from Digitimes are not necessarily new, but they do provide a fresh direct comparison between Apple's potential plans for the two iPad lines.
Reliable KGI Securities analyst Ming-Chi Kuo had previously reported that technical challenges would likely see the next iPad mini pushed back from Apple's original internal timeline, with an introduction likely coming in the September-November timeframe rather than earlier as some had thought. Digitimes' claim today suggests that the launch could be at the end of that timeframe, bumping up against the holiday shopping season.