Apple Tells Reseller New Mac Pro Is Arriving in Spring 2013
French Apple Reseller France Systems sent out a newsletter to its customers on the news that Apple will be halting sales of the Mac Pro on March 1st, 2013 due to new EU regulatory requirements.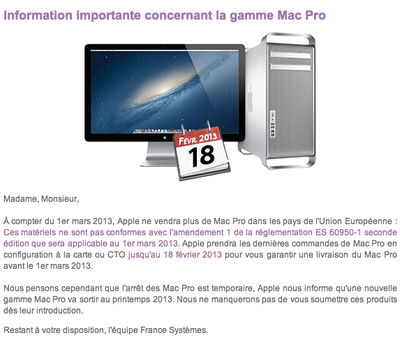 As noted by both Mac4Ever and MacGeneration, the reseller also reports in that newsletter that they have heard from Apple that a new Mac Pro will be arriving in Spring of 2013. Translation:
However, we believe that the judgment of the Mac Pro is temporary, Apple informs us that new Mac Pro will be released in spring 2013.
While Apple typically doesn't leak such information, even to resellers, they have been strangely candid about a 2013 Mac Pro revision. In June, after a disappointing revision to the Mac Pro, an Apple spokesperson confirmed that Apple was working on a new Mac Pro for release in 2013.
Update: Apple declined to comment to Ars Technica about the reseller's claims, merely pointing back to earlier comments by Tim Cook about a new Mac Pro coming "later" in 2013.