Apple to Halt Mac Pro Sales in Europe Effective March 1 Over Regulatory Requirements
Apple today issued a notice to European distributors indicating that it will halt sales of the Mac Pro in Europe and select other countries as of March 1 due to new regulatory requirements going into effect on that date. The move will affect all European Union countries, as well as EU candidate countries and the four European Free Trade Association countries: Iceland, Liechtenstein, Norway, and Switzerland.
As of March 1, 2013, Apple will no longer sell Mac Pro in EU, EU candidate and EFTA countries because these systems are not compliant with Amendment 1 of regulation IEC 60950-1, Second Edition which becomes effective on this date. Apple resellers can continue to sell any remaining inventory of Mac Pro after March 1.

Apple will take final orders for Mac Pro from resellers up until February 18th for shipment before March 1, 2013.

Countries outside of the EU are not impacted and Mac Pro will continue to be available in those areas.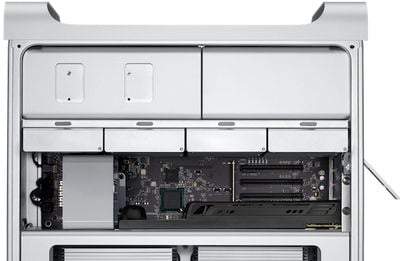 It is currently unclear exactly what aspect of the regulation the current Mac Pro will fail to meet.
Apple has uncharacteristically announced that a redesigned Mac Pro is due in 2013 after a lackluster update in June 2012 that included still-outdated processors and no other seemingly obvious improvements like USB 3.0 or Thunderbolt.
Update 10:17 AM: Macworld provides a bit more detail on where the current Mac Pro fails to meet the new regulation.
[U]nfortunately for EU customers, the Mac Pro does not comply with this standard, due to issues with power provided to its I/O ports and the placement of its fan guards. The Pro is the sole Apple product to fall under this ruling, likely due to its build - the desktop computer hasn't had an overhaul since 2010, with a minor speed bump last June.
Update 10:21 AM: Apple has issued a statement to The Loop confirming the halt for Mac Pro sales, but not offering any additional detail on the situation.
"Due to evolving regulatory requirements, Apple will stop selling Mac Pro in EU, EU candidate and EFTA countries on March 1, 2013," an Apple representative told The Loop. "After that date, resellers can sell existing inventory but Apple will no longer ship Mac Pro in those countries."
Update 10:24 AM: Macworld UK has even more on the issue:
"The Mac Pro met the previous standards prior to the amendment 1 addition. Obviously it's a very safe and very reliable product," added the company.

At issue are the large fans within the Mac Pro. Since they are unprotected, it would be possible to touch the fan blades.

"The new requirements necessitate fan guards and some increased protection on the ports on the electrical system," explained Apple.
Apple representatives also confirmed to Macworld UK that the company will continue supporting existing Mac Pro machines after March 1, including replacement parts.