iPhone 4S Seems to Fix 'Death Grip' Antenna Issue
One of the big controversies surrounding the launch of the iPhone 4 was related to its antenna design. Several customers reported issues with significant signal loss when holding their iPhone in a natural way. The complaints grew louder until even Consumer Reports stated that they couldn't recommend the iPhone 4 due to the signal issues. Not all customers saw the problem, as the issue seemed to be related to regional signal strength.
Apple even held a press conference to address the controversy. Apple, however, focused on a related but separate issue during their press conference. They discussed normal signal attenuation while gripping any phone tightly, and rightfully pointed out that all mobile phones exhibit this behavior to some degree. The other iPhone 4 specific issue which wasn't addressed during the press conference was the effect of simply bridging the left lower antenna break also causing problems for some. This video from 2010 best demonstrates the effect.
Early testing and reports from iPhone 4S users seem to show that the signal drop from tightly gripping the iPhone has been diminished or even eliminated. One user tested their iPhone 4 and iPhone 4S from the exact same spot and found no signal drop at all in the iPhone 4S while gripping tightly with their left hand and covering the band.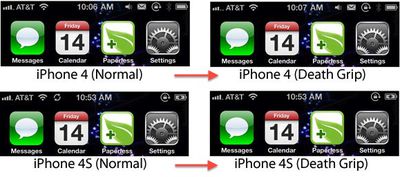 The above picture tries to demonstrate the reduced effect, but even the iPhone 4 attenuation is rather minimal as compared to the worst case scenarios we've seen.
The iPhone 4S is known to have significant antenna upgrades, allowing it to switch antennas to maximize their signal. iSpazio also posted a video showing little effect from the "death grip" on the 4S, though the video shows the demonstrator holding it in the wrong hand for the demonstration. Typically the effect is most seen when holding the iPhone in your left hand to bridge the lower left antenna gap.
Regardless, this should be good news for anyone interested in an iPhone 4S. We expect to hear more real world experiences as more readers get their iPhone 4Ss activated.
Update: InsanelyGreatMac does a great followup video showing the issue seems definitely improved on the new iPhone 4S.