Coverage of Apple's iPhone 4 Press Conference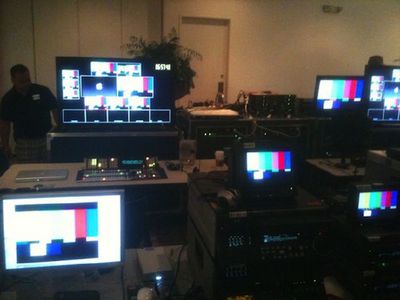 Backstage at Apple Town Hall (via mrvideobba)
Apple today is holding its
iPhone 4 press conference
where it is expected to address issues with the device's cellular signal reception.
The event is scheduled to kick off at Apple's Cupertino headquarters at 10:00 AM Pacific Time / 1:00 PM Eastern Time, or just about one hour from now. Apple will not be providing live video or audio coverage of the event, and thus observers will have to rely primarily on text and photo updates coming out of the event.
Live Web/Twitter Coverage
- Engadget
- All Things Digital
- MobileCrunch
- Ars Technica
- gdgt
- Fortune
- MacRumors Twitter updates
We'll also be providing event updates here in this article.
Recent News and Rumors
- iPhone 4 Signal Issue Can Be Fixed With a Software Update?
- Apple Not Planning an iPhone 4 Recall
- Apple Addresses iPhone Signal Strength Display With iOS 4.0.1 and iPad Wi-Fi Connectivity With iOS 3.2.1
- Analyst Claims Design Fix for iPhone 4 Signal Issue Being Deployed
- Consumer Reports 'Can't Recommend' iPhone 4 Due to Signal Issues
Event Updates
- Media are being let into Apple Town Hall for the press conference. The Wall Street Journal has noted the presence of a representative from Consumer Reports, the magazine that made the iPhone 4's antenna issue mainstream news earlier this week.
- Most of Apple's top executives are seated in the front row: Tim Cook, Bertrand Serlet, Bob Mansfield and Phil Schiller.
- Press conference opens with video of iPhone 4 antenna song.
- Jobs takes the stage. Scheduled for a 15 minute presentation followed by a Q&A
- Jobs says, "We're not perfect. Phones are not perfect. We all know that. But we want to make our users happy."
- iPhone 4 is best product we've ever made. We've sold over 3 million of them. Highest customer satisfaction rating, but we've been getting reports of antenna problems. It's been dubbed "Antennagate". We're an engineering-driven company, so we wanted to find the real problem. So here's our data.
- Shows BlackBerry Bold 9700 (Research in Motion), HTC Droid Eris (Android), and Samsung Omnia II (Windows Mobile) all behaving in exactly the same way. Bars drop to one or zero when held in areas of weak signal. A challenge for the entire industry.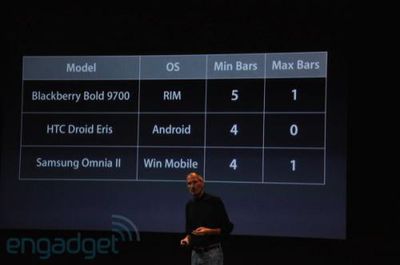 - "X" marks the spot. We made it very visible, and with the help of our friends on some websites, everybody knows where to touch to make it happen. We haven't found a way around the laws of physics yet.
- Shows off state-of-the-art antenna testing facility. Invested over $100 million in antenna testing facilities over the past 5 years and have 18 PhD scientists working on antenna design.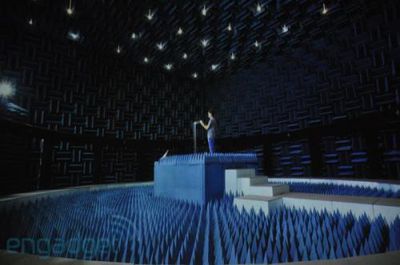 - We knew if you gripped the iPhone in a certain way, the bars would go down, just like every smartphone. It's a challenge to the industry and we're hoping to contribute to some solutions over the coming years.
- Only 0.55% of iPhone 4 customers have called AppleCare about the antenna issue. Historically not a large number for us. Return rates through AT&T for iPhone 4 are at 1.7%, far below the gold standard iPhone 3GS return rate of 6%.
- AT&T data on dropped call rates. Exact data not available due to competitive reasons, but we can say that despite our belief that the iPhone 4 has a better antenna design than the 3GS, dropped call rates have increased. But how much? Less than one call per 100 more than iPhone 3GS.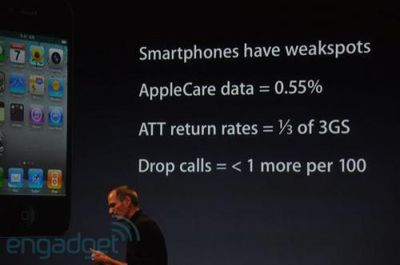 - It's not much difference, but it's too much for us, and we want to know why. Jobs' theory is that when the iPhone 3GS came out, there was already a healthy market for cases that fit it. With the iPhone 4, 80% of consumers are buying the phone without a case, and we can't make bumpers fast enough.
- Our engineers see there's a problem, but it's affecting only a small number of people. I've received over 5000 emails from customers who are having no problems and don't understand the fuss. But we care about every user, and we're not going to stop until everyone is happy.
- Here's what we're going to do. Yesterday, we released iOS 4.0.1...everyone should update.
- Free cases for everyone who bought or buys an iPhone 4 through September 30th. If you've bought a bumper already, we'll refund you. We can't make enough bumpers, so we'll source some third-party cases and you can pick. Apply on Apple's site starting late next week.
- If you're still not happy, you can return your undamaged iPhone 4 within 30 days for a full refund, no restocking fee.
- Other updates: We're also tracking proximity sensor problems, and we'll address those in our next software update.
- White iPhone 4 will begin shipping in limited quantities at the end of this month.
- Next batch of international iPhone 4 rollouts will take place on July 30th.
- We love our users, and we've built over 300 retail stores with Genius Bars to serve them and get free advice. But when we fall short, we pick ourselves up, figure out what's wrong, and try harder. And when we succeed, users reward us with their loyalty. When we have problems, we take it personally. Maybe we should have a wall of PR people to insulate us, but we don't.
- We've been working very hard over the past 22 days to figure out the problem, and we've confirmed that the heart of the problem is that all smartphones have weak spots. And if our customers are having problems, we'll give them free cases or a full refund. But the data supports that this is the best smartphone in the world and there is no "Antennagate" for us, but a challenge to the entire industry.
Q&A with Steve Jobs, Tim Cook, and Bob Mansfield
Q: How's your health, Steve?
A: Fine! I was on vacation in Hawaii, but this was worth coming back for.
Q: Any changes to future antenna design?
A: Steve: We're still working on this. We're happy with the design. Maybe our wizards will come up with something better, but we don't think there's a problem here.
Q: I can't get my BlackBerry Bold's signal to drop like the iPhone 4's.
A: Steve: You may not see it in certain areas.
Q: Why does this happen with just a single finger? It doesn't require a full grip.
A: Bob: Your body is a pretty effective signal absorber. So when you touch it, you attenuate the signal. But when you grip it, you can attenuate it even more.
Q: Were you warned about this issue?
A: Steve: I assume you're talking about the Bloomberg article. It's a crock. I've challenged them to prove it. I've talked to Ruben (the antenna engineer who supposedly warned Jobs during the design process) and he agrees it's bullshit.
Q: Will you apologize for investors?
A: Steve: We are apologizing to our customers. We want investors for the long haul. To those investors who bought the stock and are down $5, I have no apology.
Q: Do Apple customers have to choose between form and function?
A: Steve: No. We try to have our cake and eat it too.
Q: Refunds for AT&T contracts too?
A: Steve: I believe so.
Q: Is there anything you could have said during the iPhone 4 launch keynote to lower expectations?
A: Steve: I've thought about that a lot. We didn't fully understand if there were problems. We might have set the expectations that all smartphones have weak spots. One of the things we've learned by being a leader in the smartphone world is that we have to educate. So we needed data, and we've got that now. You could make a really big smartphone that doesn't have this problem, so big you can't get your hand around it, but no one's going to buy that. We're not perfect, and we're working our asses off.
Q: Why the September 30th deadline for free cases?
A: Steve: It's so we can re-evaluate. We don't know what solutions may come up by then. Maybe Eminem will come out with a band-aid that goes over the corner and everyone will want that.
Q: If you bought a third-party case, can you get a refund?
A: Steve: We're not going to refund third-party cases. It's a very small number because we didn't share designs with case makers, but now we wish there were more out there! Case makers have a history of disclosing designs we share with them, so we don't share. If people know what's coming, they stop buying the old version.
Q: Do any of you use bumpers on your iPhone 4s?
A: All three executives hold up their phones...no bumpers or cases. Steve: I don't, and I get better reception. I don't see the "death grip" issue.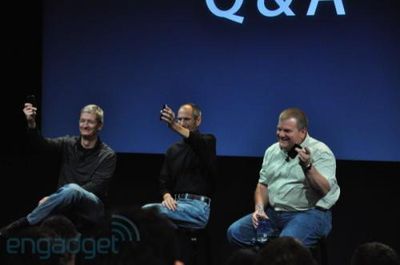 Q:
What have you learned here?
A:
Steve: One is how much we love our customers and how much we want to take care of them. We were stunned, upset, and embarrassed by the Consumer Reports stuff, but we didn't know enough to be able to address it. If we'd done this event a week and a half ago, we wouldn't have had half the data we have today. We're engineers, and we want to solve real, hard problems. I don't think we could have done this faster...we've had cots in the labs, cars here all night. We've been living here. But's human nature to tear down successful people. I see it happening to Google, a great company. Haven't we earned the credibility and trust that we'll take care of our customers? The reaction has been overblown, and we could use your help with this.
Q: Did you consider a recall?
A: Steve: When you love your customers, nothing is off the table. But we want to be data-driven. We sent engineers to people's homes to test equipment and take logs. And we didn't bash down any doors!
Q: How about return rates at Apple stores?
A: Tim: Very lower, lower than AT&T's numbers.
Q: The New York Times says there might be a software fix. Is that true?
A: Steve: We just talked about how the iPhone 4 only drops 1 call per hundred more than the 3GS. Go talk to the Times, because they're just making this stuff up. Scott Forstall comes on-stage: It's patently false. We can continue to tune the way the baseband interacts with the network, and we do that all the time, but the Times' statement is untrue.
Q: What kind of financial impact do you expect?
A: Tim: We'll wait for our Q3 financial results conference call next week to discuss that.
Q: I use my iPhone in heavily-congested San Francisco. Does the handset have any role in congestion management?
A: Steve: I'll let Scott answer that one, but I'll say this...when AT&T wants to add a tower in Texas, it takes three weeks. When they want to do it in San Francisco, it takes three years. No one wants it in their backyard. AT&T is investing, but it takes time.
Q: A couple of years ago you released an iPhone software update that improved reception. How does that relate?
A: Steve: We came to the realization about 8 years ago that we didn't want to get into a business unless we controlled the primary technology. And we did that with the iPod, and moved on to the iPhone, where he can frictionlessly distribute software updates because we control it. And now everybody's copying us. But to answer your question, the formula for calculating the bars has been off since the beginning, so I'm not sure I understand your question.
Q: Well, you supposedly fixed this problem two years ago, and now you say it's been a problem all along.
A: Steve: They're probably unrelated. I honestly don't remember the issue you're talking about.
Q: You've been communicating with customers a lot via email. How has that impacted how you're dealing with the issues?
A: Steve: I've always done that...my address it out there. But I get a lot of email and can't respond to all of them. People have started posting them on the web, which is a bit rude, but now they're even making them up. But I want to communicate with our customers.
Q: Regarding free case offer, will it extend outside U.S., and will it be extended past September 30th?
A: Steve: Yes, and we'll evaluate things as far as any possible extension.
That wraps up the Q&A. Steve thanks everyone for coming and asks "Has this helped?" Says he wishes it could have been done in the first 48 hours, but then you wouldn't have had as much to write about.