Apple's Media Event on Wednesday - iPod and Apple TV Rumors and Speculation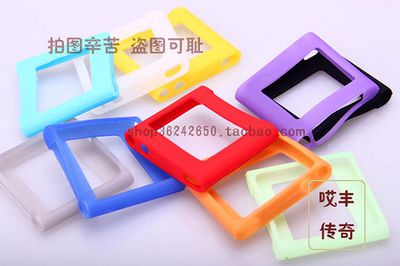 via Micgadget
Apple's September media event kicks off on Wednesday, September 1st at 10 a.m. Pacific. The annual event typically focuses on Apple's iPod line, though recent rumors have suggested that the Apple TV may finally be getting a revision.
Rumors
Here are the major rumors heading into the event.
- Apple TV - A next generation Apple TV based on iOS, priced at only $99, as well as support for Apps.
- iPod Touch - Backside camera, mic, new shape, front facing camera, possible 3G and even a Retina display.
- iPod Nano - Smaller, square shaped design with a 3cm x 3cm touch screen. Case manufacturers have already been producing covers for the unannounced device (see above).
- Other updates to iTunes including TV show rentals and longer song previews.
Speculation
Meanwhile, here's a collection of fun speculative content that we can't verify, but in the run up to the event may inspire some interesting discussion:
- iPad 4.0? - We expect Apple will announce their plans for the deployment of iOS 4 for the iPad during the event. It's unlikely Apple will be able to launch tomorrow as Apple still needs developers to update their apps. So, hopefully we'll get a roadmap and a developer beta of iOS 4 for iPad.
- 2.8" iPod touch? iLounge suggests that perhaps we will see the long rumored 2.8" iPod touch emerge to fill the gap left by the former iPod nano.
- iPhone as Apple TV Remote? iLounge's Charles Starrett speculates that the rumored $99 Apple TV might actually require an iOS device to serve as a remote. Beyond his speculation, we'd actually heard unconfirmed whispers of the same, so it seems within the realm of possibility.
- iLife Mystery App is a Make Your Own App Tool? Rumors of iLife '11 suggested a brand new app would be introduced with the iLife '11 suite. We've heard an unconfirmed whispers that the new app could actually be a way for end users to create simple apps and deploy them directly (not through the App Store) to their iOS devices. Is Apple returning to their Hypercard roots? It's hard to say how feasible this would be.
Coverage
We'll be providing live coverage on Twitter at @MacRumorsLive as well as major updates here on the site. Our main news Twitter feed is @MacRumors. A Spoiler Free page is also available for those who want to watch the event fresh.