What is Apple Planning on Making with this 3x3cm Touch Screen?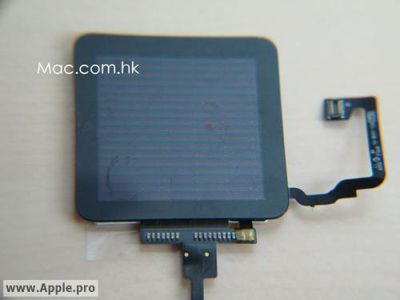 Tw.apple.pro posts
a few images of an Apple-branded touch screen that only measures 3x3 centimeters. The site has been a source of early parts for Apple products in the past, including white iPhone 4 parts and
MacBook Pro enclosures
. Based on the
machine translation
they aren't quite sure what the part is for. Though, they speculate about an iPod Touch nano, iPod Touch shuffle and even a touch-screen wrist-watch.
We're not sure what to make of it. The screen isn't the right proportion to be used in the current iPod nano, though Apple could change the design. We're also taking their word on it that it's even a touch screen.