More Claims of Smaller, Square iPod Nano Next Week, Along With Possible 3G iPod Touch and iLife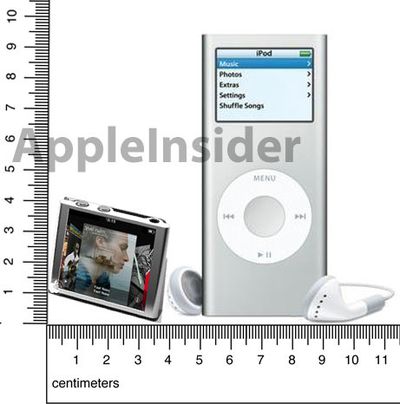 Mockup comparing possible next-generation iPod nano form factor to 2nd-generation model
AppleInsider
offers
new claims
of a significant redesign of the iPod nano scheduled for release at next week's media event, lending additional weight to the
square cases
and
earlier rumors
associated with the device.
People familiar with the matter indicated that the size and shape of the device, revealed this week through photos of third-party cases, will be more akin to the iPod shuffle than the current-generation iPod nano. Even with this small size, however, it is expected to have a traditional iPod dock connector, allowing compatibility with the existing iPod accessory ecosystem.
The new iPod nano is said to utilize a tiny 3cm-by-3cm display that was revealed in its bare form as unknown Apple-branded component earlier this summer. For comparison, the second-generation iPod nano had a screen that was about 3cm by 2.5cm.
In addition to the iPod nano, the report notes that Apple has been toying with plans to release a version of the iPod touch offering 3G cellular data access. The company is said to have begun seriously considering the idea after seeing the success of the 3G-capable version of the iPad released earlier this year, and prototypes of 3G-capable iPod touches are claimed to be in existence.
Finally, rumors of an update to Apple's iLife suite persist, with today's report suggesting that a portion of next week's media event might be devoted to a new version of Apple's multimedia suite. With Apple having moved to an approximately 18-month release cycle over the last few versions of iLife and the current version having been released in early 2009, an update in the near future would be a reasonable guess. One claim from late last month predicted an August 17th release for "iLife '11", which is rumored to see the discontinuation of iDVD, a significant revamp of iWeb, and a new "mystery" application. The claimed release did not, however, occur on the predicted date.