Next-Generation Apple TV Renamed 'iTV', Utilizes Apps, Lacks 1080p?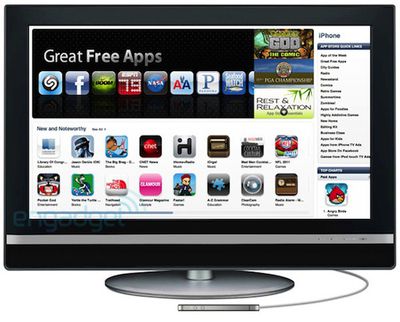 Engadget mockup of iPhone 4-style "iTV" device serving App Store content
Engadget provides a follow-up
to its
late May report
revealing Apple's plans for a revamped Apple TV product. The previous report had suggested an iOS-based device at a price point of $99 with limited onboard storage that would be capable of 1080p playback, but today's report claims that some things have changed in Apple's plans.
Well we've gotten a little more info on the project, and it's not all good. Apparently the box won't be capable of handling (or enabled to handle) 1080i or 1080p video. Instead it will only push out 720p clips. The word -- and cause for much internal debate, we're told -- is that this has something to do with the A4's inability to crank on higher resolution content, but we don't see how that's possible considering the iPhone 3GS could play back full HD video. Furthermore, the device will be getting apps and presumably an App Store entry, though it's unclear if there will be cross-pollination between iPad and iPhone / iPod touch offerings and new Apple TV applications.
Also of significance, Apple is reportedly renaming the Apple TV to "iTV". Apple initially announced its set-top box product as "iTV" in September 2006, but changed the name to "Apple TV" for its launch in January 2007. Coming full circle, Engadget expects the new iTV to make its debut sometime later this year.