In iOS 15, Apple brings several enhancements to FaceTime, including new visual and audio effects to improve the video call experience.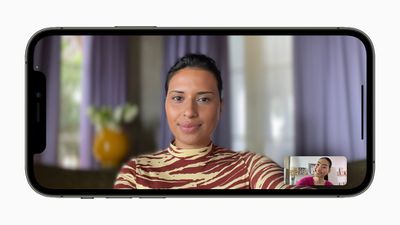 One of the new visual features is Portrait mode in calls. With this mode enabled, you can blur your background so that the focus is on you rather than what's behind you.
The feature is commonly used by other video conferencing apps like Zoom and Teams to obscure untidy domestic scenes and other sources of distraction or embarrassment. Here's how it works in ‌FaceTime‌ on iPhones and iPads running iOS 15.
Launch the FaceTime app and initiate a video call.
Open Control Center with a diagonal swipe down from the top-right corner of your screen.
Tap the Video Effects button.


Tap the Portrait button to enable it.
Swipe up from the bottom of the screen to dismiss Control Center and return to the call.

Unless you expand your view of yourself, you won't see too much difference in your appearance when Portrait mode is enabled, but the person on the other end of the call will see your environment faintly blurred, just like in a Portrait mode photo.