In September 2020, Apple updated its popular iPad Air, introducing a faster A14 Bionic processor, a larger display, USB-C, Magic Keyboard compatibility, a range of colors, and a complete redesign.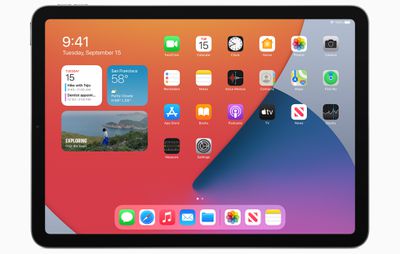 Although the previous 3rd generation iPad Air from 2019 is no longer sold by Apple, it tends to be readily available at third-party retailers. As the 2019 model is markedly different to the new iPad Air 4, it may be found for a considerably lower price.
What do these two ‌iPad Air‌ models have in common, and should you consider purchasing the older model to save money? Our guide answers the question of how to decide which of these two generations is best for you. In general, the ‌iPad Air‌ 4 is a major upgrade over the ‌iPad Air‌ 3.
Comparing the 2019 iPad Air and the 2020 iPad Air
Although both models have a completely different design, they share more features than you may expect. Apple lists these same features of the two generations of ‌iPad Air‌:
Similarities
Available in Silver and Space Gray
LED-backlit Retina display with True Tone
64‑bit desktop-class Bionic chip with Neural Engine
7MP front-facing camera
Dual speakers
Compatible with keyboards via Smart Connector
Compatible with Apple Pencil
Bluetooth 5.0
Up to 256GB storage
Up to 10-hour battery life
Apple's breakdown shows that the two generations share a variety of key features. There are, however, a large number of meaningful differences between the 2019 ‌iPad Air‌ and the 2020 ‌iPad Air‌ that are worth highlighting, including the design, the processor, and the rear camera.
Differences
2019 iPad Air (3rd generation)
10.5-inch Retina display with 2224‑by‑1668 resolution
A12 Bionic chip with Neural Engine
Compatible with 1st generation ‌Apple Pencil‌
Compatible with Smart Keyboard
8MP Wide rear camera with ƒ/2.4 aperture
Autofocus
Auto HDR for photos
Panorama (up to 43MP)
1080p HD video recording at 30 fps
Slo-mo video support for 720p at 120 fps
Video stabilization
Tap to focus while recording
Two-speaker audio
Fingerprint scanner built into the Home button
Wi‑Fi 5 with speeds up to 866Mb/s
Gigabit-class LTE (up to 28 bands)
Lightning connector
Older design with Home button
2020 iPad Air (4th generation)
10.9-inch Liquid Retina display with 2360‑by‑1640 resolution
A14 Bionic chip with Neural Engine
Compatible with 2nd generation ‌Apple Pencil‌
Compatible with ‌Smart Keyboard‌ Folio and Magic Keyboard
12MP Wide rear camera with ƒ/1.8 aperture
‌Live Photos‌ with stabilization
Autofocus with Focus Pixels
Smart HDR for photos
Panorama (up to 63MP)
4K video recording at 24 fps, 30 fps or 60 fps
Slo-mo video support for 1080p at 120 fps or 240 fps
Cinematic video stabilization
Continuous autofocus video
Two-speaker audio landscape mode
Fingerprint scanner built into the top button
Wi‑Fi 6 with speeds up to 1.2Gb/s
Gigabit-class LTE (up to 30 bands)
USB‑C
New industrial design with squared-off edges, curved corners on the display, slimmer bezels, and no Home button
Read on for a closer look at each of these aspects, and see what exactly the two most recent generations of the ‌iPad Air‌ have to offer.
Design and Authentication
The 2019 ‌iPad Air‌ echoed the design of many iPads that came before it, with chamfered edges on the front, curved edges on the rear, a large rectangular display, and a round Home button. The design and dimensions are almost exactly the same as the 10.5-inch iPad Pro from 2017, but this kind of iPad design goes as far back as the first-generation iPad mini from 2012. It is available in Silver, Space Gray, and Gold.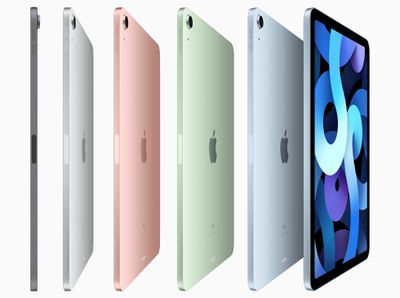 The 2020 ‌iPad Air‌ adopted a completely new design, following the principles established by the 2018 ‌iPad Pro‌. The new industrial design features squared-off edges, and a larger display, with a slimmer, even bezel around the edge and curved corners. The new ‌iPad Air‌ also comes in a range of colors, such as Rose Gold, Green, and Sky Blue, as well as Silver and Space Gray. Since the 2020 ‌iPad Air‌ has no Home button to allow the display to extend on all sides, the Touch ID fingerprint scanner has been moved to the top button for the first time.

The 2020 ‌iPad Air‌'s design is much more modern and will age much better than that of the 2019 ‌iPad Air‌, which already felt slightly outdated when it arrived last year. If you are a fan of the ‌iPad Air‌ 4's range of colors and industrial design it will be definitely worthwhile to get the newer model. If the design is not so important to you, or perhaps you are comfortable with the more "classic" ‌iPad‌ design with a Home button, the older ‌iPad Air‌ will be perfectly functional.
Since the older design is substantially different to that of the new 2020 ‌iPad Air‌, and will likely not age well since it is already effectively eight years old, it is difficult to recommend the 2019 ‌iPad Air‌ on the basis of design. The new ‌iPad Air‌'s use of Apple's current preferred design language simply makes it feel like a much more modern device.
Display
The 2019 ‌iPad Air‌ has a 2224x1668 10.5-inch LED-backlit Retina display with Multi‑Touch, IPS technology, and True Tone. The 2020 ‌iPad Air‌ has a 2360x1640 10.9-inch LED-backlit with Multi‑Touch, IPS technology, and True Tone. Although the newer model has a slightly larger display, the screens themselves are actually very similar. Both have a maximum brightness of 500 nits, P3 wide color, and 264 pixels-per-inch.

It is likely that the 2020 ‌iPad Air‌ display's curved corners will be a more noticeable difference than the slight size increase. If you want the largest possible screen on an ‌iPad Air‌, or feel that curved corners are more aesthetically pleasing, then there is no doubt that you should get the newer model. For most people, however, the difference between the two displays is negligible and the older model will suffice.
A12 vs. A14
Though both processors are 64-bit desktop-class Bionic chips with Neural Engines, the A14 chip in the 2020 ‌iPad Air‌ sees a considerable leap in performance and efficiency. As the 2020 ‌iPad Air‌ skips the A13 to provide the latest A14 processor, also launching in the iPhone 12, the processor is one of the main perks of the fourth-generation ‌iPad Air‌.
Early supposed benchmarks suggest that the A14 is a 6-core chip with a base frequency of 2.99GHz and 3.66GB of memory, achieving a score of 1,583 in single-core and 4,198 for multi-core.

This is markedly higher than the 1,336 in single-core and 3,569 in multi-core for the A13 Bionic. Compared to the A12Z chip from the 2020 ‌iPad Pro‌, the A14 does better than the A12Z in single-core at 1,118 and slightly lower than in multi-core at 4,564. The A12Z has an extra GPU core compared to the A12X, however. These early benchmarks indicate that the A14 has significant performance improvements over the A12 in the 2019 ‌iPad Air‌.
Apple says the A14 Bionic chip has a "next-generation" 16-core Neural Engine that delivers 11 trillion operations per second, which is more than twice as many as the A12. There are new-to-mobile accelerators that reportedly deliver up to 10 times better machine learning performance. There is also improved image signal processing and it is the first commercial chip to be manufactured with a 5nm process. This combination of the new Neural Engine, CPU machine learning accelerators, and high-performance GPU enables powerful on-device experiences for image recognition, natural language learning, analyzing motion, and more.
However, the A12 is still a very capable chip. The 2019 ‌iPad Air‌ delivers a 70 percent boost in performance and twice the graphics capability compared to its predecessor. The A12 also has the Neural Engine, which powers the next generation of apps and ‌iPad‌ workflows using advanced machine learning and Core ML for AR experiences, photo-realistic effects in 3D games, and excellent graphics performance. It is highly unlikely that users would find the A12's performance in any way disappointing.
Nonetheless, the major performance improvements of skipping a chip generation in the latest ‌iPad Air‌ offer a highly compelling reason to get the newer model.
Cameras and Audio
Another area of significant difference between both models of the ‌iPad Air‌ is the camera. The 2019 ‌iPad Air‌ contains an 8MP wide rear camera with a ƒ/2.4 aperture, which facilitates ‌Live Photos‌, autofocus, auto HDR, panorama up to 43MP. The 2020 ‌iPad Air‌ contains a 12MP wide rear camera with a ƒ/1.8 aperture, and offers ‌Live Photos‌ with stabilization, autofocus with Focus Pixels, Smart HDR, and panorama up to 63MP. This is the same rear camera setup found in the high-end ‌iPad Pro‌.
For video, the 2019 ‌iPad Air‌ can record 1080p HD video at 30 fps, 720p slo-mo video at 120 fps, with video stabilization, and tap to focus while recording. The 2020 model can record 4K video at 24 fps, 30 fps, or 60 fps, or slo-mo video at 1080p and 240 fps, with cinematic video stabilization and continuous autofocus.
The camera capabilities of the ‌iPad Air‌ 4 are much more fully-featured than its predecessor, but the camera tends to be a less important feature for many ‌iPad‌ users. Unless you use your ‌iPad‌ as a viewfinder or for videography,

the camera improvements and added features of the 2020 ‌iPad Air‌ are probably not worth it over the previous model.
The 2020 ‌iPad Air‌ offers two-speaker audio with landscape mode, while the 2019 model has standard two-speaker audio only. Stereo speakers with landscape mode create a wider sense of stereo sound, particularly while watching video. If you consume a lot of media on your ‌iPad‌, it is certainly worth considering the newer model for its improved audio, but the feature is not enough to justify the purchase alone.
Connectivity
The ‌iPad Air‌ 3 supports Wi‑Fi 5 with speeds up to 866Mb/s, and gigabit-class LTE with up to 28 bands. On the other hand, the ‌iPad Air‌ 4 supports Wi‑Fi 6 with speeds up to 1.2Gb/s, and gigabit-class LTE with up to 30 bands. While these wireless connectivity upgrades are small, they do make the newer ‌iPad Air‌ a more future-proof model.
The ‌iPad Air‌ 3 uses the Lightning connector, while the ‌iPad Air‌ 4 uses the much more flexible USB‑C for up to 5Gbps data transfer. If you intend to use your ‌iPad Air‌ for work, and would benefit from the ability to connect external displays, USB thumb drives, external hard drives, SD cards, wired ethernet, and more, then the USB-C connector of the latest ‌iPad Air‌ will offer the unparalleled capability. Alternately, if your ‌iPad Air‌ 4 is mainly for media consumption, USB-C is not likely to open up much more functionality for you, so the older model will be adequate. Apple is continuing to use the Lightning connector on many of its products, so it is not yet a redundant port, but USB-C is simply more versatile.
Accessories
While both ‌iPad Air‌ models support the ‌Apple Pencil‌, the newer model supports the second-generation ‌Apple Pencil‌, while the 2019 ‌iPad Air‌ supports the first-generation ‌Apple Pencil‌. The first-generation has to be connected to the Lightning port to charge, but the second-generation ‌Apple Pencil‌ charges wirelessly via a magnetic connection on the side of the ‌iPad Air‌ 4. The second-generation ‌Apple Pencil‌ can also be stored here, whereas the first-generation ‌Apple Pencil‌ cannot be attached to the ‌iPad‌ for storage.

For productivity, the ‌iPad Air‌ 4 is compatible with the Magic Keyboard and ‌Smart Keyboard‌ Folio. The ‌iPad Air‌ 3 is only compatible with the ‌Smart Keyboard‌. With its floating design, built-in trackpad, pass-through USB-C charging, and full-sized scissor mechanism keys with optimized travel, compatibility with the Magic Keyboard makes the 2020 ‌iPad Air‌ much more of a serious device for work.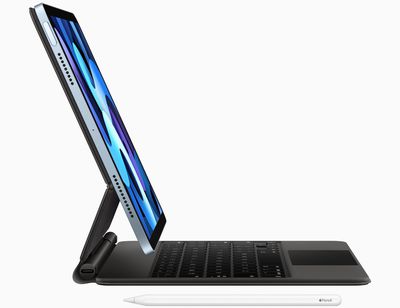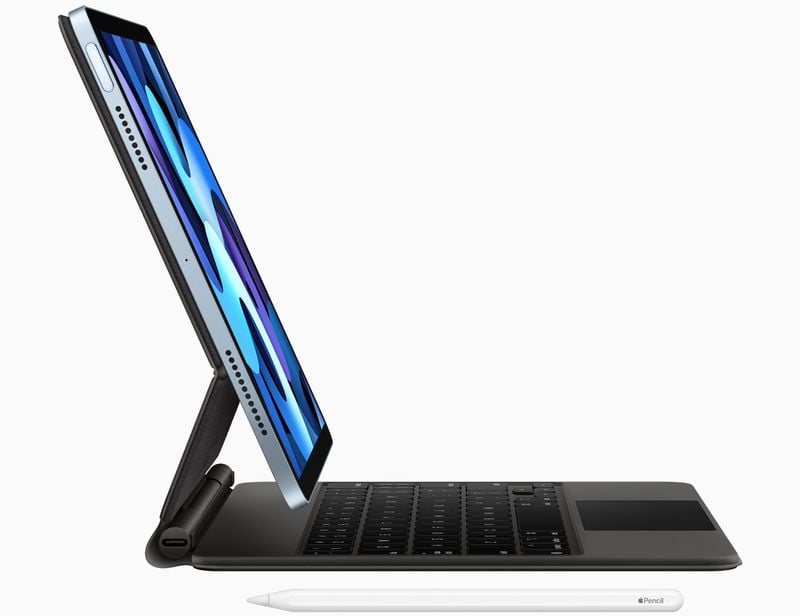 For light ‌Apple Pencil‌ or keyboard use, the 2019 ‌iPad Air‌ is sufficient, but the design improvements of the second-generation ‌Apple Pencil‌ and Magic Keyboard make for a significantly more polished experience. If you are intending to use either of these accessories, the newer ‌iPad Air‌ is the obvious choice.
Other iPad Options
If you are a first-time ‌iPad‌ buyer, on a budget, or only have limited needs, you may wish to consider the eighth-generation iPad. In fact, many of the features of the ‌iPad Air‌ 3 are analogous to the latest ‌iPad‌, such as the A12 processor, design, smart keyboard support, and first-generation ‌Apple Pencil‌ support. Starting at just $329, the ‌iPad‌ is a budget offering, and if you are looking for the cheapest possible ‌iPad‌ or are only a light user, the standard ‌iPad‌ may meet your needs better than the ‌iPad Air‌.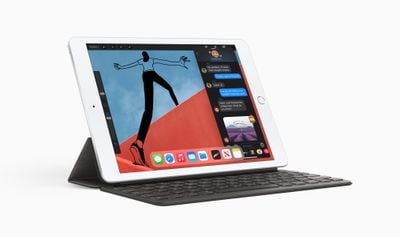 Alternately, if you are intending to use the ‌iPad Air‌ for work, such as graphic design or video editing, you may wish to consider the iPad Pro. With its high refresh-rate ProMotion display, excellent graphics performance, "studio-quality" mics, quad-speaker setup, True Tone flash, and LiDAR scanner, the ‌iPad Pro‌ is a more high-end device. If you were already leaning toward the 2020 ‌iPad Air‌, it may be worth considering what the higher-end model has to offer.
Which iPad Air Should You Buy?
The ‌iPad Air‌ 4 improves on the ‌iPad Air‌ 3 in almost every area and is a major update. Magic Keyboard connectivity and USB-C make the ‌iPad Air‌ 4 a powerful productivity machine and a viable laptop-replacement. With the latest A14 chip, larger display, industrial design, the 2020 ‌iPad Air‌ will be the go-to choice for most ‌iPad‌ customers. The overall effect of the plethora of improvements to the 2020 ‌iPad Air‌ is that it is considerably more future-proof, and will likely be equally as compelling in years to come.
As the ‌iPad Air‌ 4 is a fully-featured and redesigned device, it is extremely difficult to recommend the older model from 2019. You should only consider the older ‌iPad Air‌ 3 if the $599 starting price of the ‌iPad Air‌ 4 is out of your budget, and even then, the standard eighth-generation ‌iPad‌ may be a more cost-effective offering for those customers. Otherwise, most customers should buy the latest ‌iPad Air‌ for an all-round package with noteworthy improvements in almost every area.