Apple in 2015 and 2016 introduced updated keyboards for its
MacBook
and
MacBook Pro
, debuting new butterfly keys with home switches beneath each key that minimize thickness while also providing a satisfying press under the fingers.
Unfortunately, Apple's butterfly keyboards are highly controversial and have been called out as one of the company's
worst design decisions
due to their penchant for failure due to small particulates like crumbs or heat issues. All butterfly keyboards in MacBook Pro, MacBook, and
MacBook Air
models introduced since 2016 (and 2015 in the case of the MacBook) have butterfly keys that could be vulnerable to failure.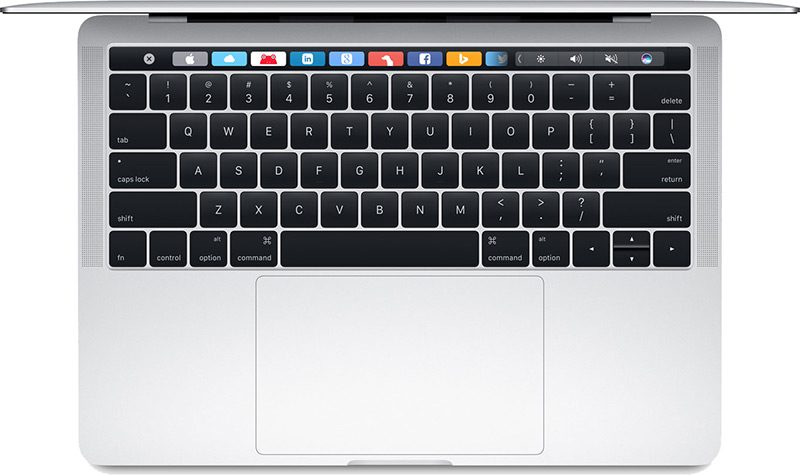 What's the problem?
Butterfly keys use a butterfly mechanism that's different from the scissor mechanism used for traditional keyboards. It's called a butterfly mechanism because the components underneath the key resembles a butterfly's wings, with a hinge in the center rather than overlapping like a pair of scissors.
Apple swapped to a butterfly mechanism to make a thinner keyboard, which is possible because each key moves less when pressed so less space is needed. The keyboard provides a satisfying amount of travel and stability when each key is pressed, but unfortunately, the thin butterfly mechanism can get jammed up with crumbs, dust, and other particulates, resulting in keys that don't press properly, keys that skip keystrokes, or keys that repeat letters.

Keyboard failure is a huge issue in Apple's notebooks because replacing the keyboard requires the entire top assembly of the computer to be replaced. This is not a cheap repair.
Which Macs are affected?
All MacBook models have the potential to experience keyboard issues because the 2015 MacBook was the first machine to get a butterfly keyboard. All 2016, 2017, and 2018 and 15-inch MacBook Pro models are vulnerable to failure despite some generational changes Apple has made to the keyboard with different models, which we'll explain more below.
Apple's 2018 MacBook Air uses the same butterfly keyboard that's in the MacBook Pro, which has also been the subject of some failure complaints on Reddit and the
MacRumors
forums, but full data is not yet available as these machines have only been available since October 2018 and most complaints have focused on the MacBook Pro.

Note: Not all MacBook, MacBook Pro, and MacBook Air owners have experienced issues with the butterfly keyboard. It is a problem that seems to be related to dust, crumb, and small particulate exposure, with some complaints of heat issues, that affects a portion of MacBook, MacBook Pro, and MacBook Air owners.
According to Apple, only a "small percentage" of Mac users have experienced problems with the butterfly keyboard, but anecdotal claims and the high visibility of the issue have resulted in a public perception that most butterfly keyboards fail. This isn't true as some people have keyboards that are fine, but any modern Mac notebook's keyboard has the potential to experience issues.
What has Apple done?
Apple in June 2018
launched a keyboard repair program
for MacBook and MacBook Pro models equipped with butterfly keys, offering free keyboard repairs for the following machines:
MacBook (Retina, 12-­inch, Early 2015)
MacBook (Retina, 12­-inch, Early 2016)
MacBook (Retina, 12-­inch, 2017)
MacBook Pro (13­-inch, 2016, Two Thunderbolt 3 Ports)
MacBook Pro (13-­inch, 2017, Two Thunderbolt 3 Ports)
MacBook Pro (13-­inch, 2016, Four Thunderbolt 3 Ports)
MacBook Pro (13-­inch, 2017, Four Thunderbolt 3 Ports)
MacBook Pro (15-­inch, 2016)
MacBook Pro (15-­inch, 2017)
That's all MacBook and MacBook Pro models from 2015 to 2017, though the 2018 MacBook Pro and MacBook Air with third-generation butterfly keyboards are not included in the repair program.
Customers with eligible 2015 to 2017 machines that are experiencing keyboard issues can visit an
Apple retail
store or Apple Authorized Service Provider to receive repairs free of charge. The repair program is a huge deal, as prior to its initiation, some customers had to pay upwards of $500 in fees to get their MacBook and MacBook Pro models repaired.
What about 2018 MacBook Pro and MacBook Air models?
Apple in 2018 debuted MacBook Air and MacBook Pro models that use an updated third-generation butterfly keyboard. The third-generation butterfly keyboard has a thin silicone barrier behind each key, which was put in place as an ingress-proofing measure to prevent dust from getting in the keys.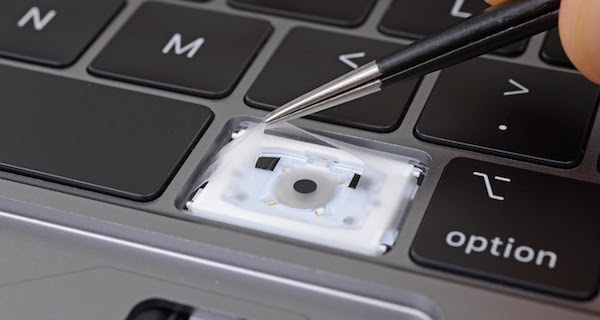 The silicone barrier on the third-generation MacBook Pro keyboard, via iFixit
There was hope following the launch of the third-generation butterfly keyboard that it would cut down on failures, but as a recent report from
The Wall Street Journal
pointed out, the 2018 MacBook Pro is still prone to keyboard issues. Apple in a statement apologized, but did not outline specific repair options or future keyboard plans.
We are aware that a small number of users are having issues with their third-generation butterfly keyboard and for that we are sorry. The vast majority of Mac notebook customers are having a positive experience with the new keyboard.
It's possible 2018 machines with updated butterfly keyboards will fail less often, but 2018 MacBook Pro and MacBook Air owners have still been reporting issues, which is something to be aware of before making a purchase.
We haven't heard as many reports about the new keyboards as we have with other older butterfly keyboards, but the problem hasn't been solved entirely and more data is needed to determine the effectiveness of the membrane in the third-generation keyboards.
What do I do if my keyboard fails?
Regardless of which MacBook, MacBook Air, or MacBook Pro you have, you should contact Apple support or visit an Apple retail store for repair options. As mentioned above, if you have a 2015 to 2017 machine, there is a repair program available for free repairs. The repair program covers eligible MacBook and MacBook Pro models for four years after the date of purchase.
2018 machines are, at the current time, still under the one-year warranty period and will also be eligible for repairs for now. Apple may in the future extend its repair program to encompass these Macs as well, but right now, the standard warranty or
AppleCare
+ provide the only coverage.
Apple is
prioritizing
MacBook and MacBook Pro keyboard repairs and requiring Apple retail staff to perform the repairs in store rather than sending machines off to a repair facility, which takes days. Apple is now aiming to offer next-day turnaround time MacBook and MacBook Pro keyboard replacements.
In some cases, if you get a large crumb underneath a key, a key will feel locked in place. There are occasions where you can wiggle the key to break up the crumb and get it working again, and Apple also recommends
cleaning out the keyboard with compressed air
.
What will Apple do next?
Public sentiment about the butterfly keyboard and the overall performance of Apple's notebooks is growing worse, which is not surprising as Apple has been releasing machines with keyboards that can potentially fail since 2015. Apple made an effort to improve the situation with the 2018 MacBook Air and MacBook Pro models and the membrane underneath the keys, but given the continued reports of failures even in these machines, Apple needs to find a more permanent solution.
Apple may have major keyboard design changes in store in light of ongoing complaints, but it's not yet clear if and when Apple will transition away from the butterfly keyboard to a more stable design.
Guide Feedback
Have feedback on this guide or see something that was missed?
Send us an email here
Related Articles