Apple Apologizes Over 'Small Number' of Users Who Continue to Have Issues With Third-Generation MacBook Keyboards
Last year, Apple introduced new MacBook Pro and MacBook Air models with a redesigned third-generation butterfly keyboard that was meant to address issues with sticking and non-responsive keys. However, as noted by The Wall Street Journal's Joanna Stern, some customers are continuing to experience these issues.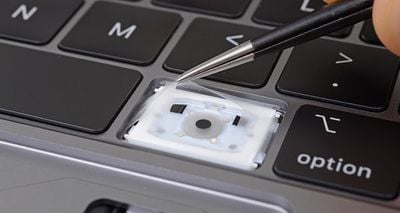 Third-generation butterfly keyboard on 2018 MacBook Pro via iFixit
In a statement, an Apple spokesperson acknowledged the issues and apologized:
We are aware that a small number of users are having issues with their third-generation butterfly keyboard and for that we are sorry. The vast majority of Mac notebook customers are having a positive experience with the new keyboard.
Apple added that affected customers should contact the company for support.
Unfortunately, while Apple initiated a service program offering free repairs of affected 2015-2017 MacBook and 2016-2017 MacBook Pro models with first- and second-generation butterfly keyboards, the latest 2018 MacBook Pro and 2018 ‌MacBook Air‌ models with third-generation butterfly keyboards do not qualify at this time.
Stern wrote her column without using the letters E or R as a clever way of illustrating the problem — there are toggle switches to turn each letter back on. Humorously, there are also toggle switches to read the article with double E's or double T's, as repeating letters are one symptom of the sticky keys.


In an internal document obtained by MacRumors last year, Apple said the third-generation keyboard has a silicone membrane under the keycaps to "prevent debris from entering the butterfly mechanism." However, the membrane has only reduced the keyboard issues instead of eliminating them entirely.
Apple has not admitted this reasoning publicly, instead saying that the third-generation keyboard delivers a "quieter" typing experience.
Stern concludes with a plea to Apple to "stop prioritizing thinness over usability."