New MacBook Air and Base 13-Inch MacBook Pro Have Same Keyboard as Higher-End 2019 MacBook Pros
Good news: both the new MacBook Air and the new entry-level 13-inch MacBook Pro models introduced today have the same third-generation butterfly keyboard design with an updated material as the higher-end 2019 MacBook Pro models introduced in May, we've confirmed directly.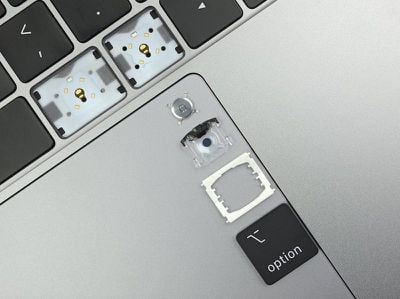 2019 MacBook Pro keyboard teardown via iFixit
Apple previously said the new material should substantially reduce issues that some users have experienced with its butterfly keyboards in recent MacBooks, according to
The Loop
. Apple
apologized for the issues
in March, but it continues to insist that a "small percentage" of customers are affected.
Apple has not elaborated on the new material, but the repair experts at iFixit completed a teardown of the 2019 MacBook Pro and discovered a "subtle change" made to the silicone membrane covering the keyboard switches.
Whereas the membrane in the 2018 MacBook Pro is "semi-opaque" and "feels like silicone," iFixit said the cover in the 2019 model is "clearer and smooth to the touch." Based on infrared analysis, it appears the 2018 membrane was made with polyacetylene, while the 2019 covers uses polyamide, aka nylon.
Despite the new material, Apple has added all 2019 MacBook Air and 13-inch MacBook Pro models, including today's refreshed entry-level configuration, to its keyboard service program — hopefully out of an abundance of caution.
This means any 2019 ‌MacBook Air‌, 13-inch MacBook Pro, or any Mac with a butterfly keyboard that experiences keyboard issues such as sticky or inconsistently responding keys qualify for free repairs from Apple for up to four years after the original purchase date worldwide, regardless of warranty status.
With the 12-inch MacBook having been discontinued today, this means every notebook that Apple sells today features this new material for improved reliability. Whether the new material actually cuts down on the issues or not remains to be seen, as the sticky or repeating keys often take time to manifest.
Looking forward, reputable analyst Ming-Chi Kuo said Apple plans to adopt a new scissor keyboard in future MacBooks, including a new ‌MacBook Air‌ later in 2019 and a new MacBook Pro in 2020. While the ‌MacBook Air‌ was updated today, the only change was a True Tone display, so a processor refresh could still follow this fall along with the new keyboard if Apple finally plans to ditch the butterfly mechanism.
To initiate a keyboard repair, visit the Get Support page on Apple's website to book a Genius Bar or Apple Authorized Service Provider appointment.