New MacBook Pros Launching Tomorrow With These 4 New Features
The new 14-inch and 16-inch MacBook Pro models announced last week will begin arriving to customers and launch in stores on Tuesday, November 7, although the highest-end configurations do not launch until a few days later.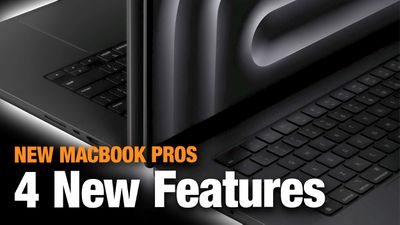 Ahead of the launch, we have recapped four new features of the new MacBook Pro models.

M3 Chip Series
The new MacBook Pro models are available with Apple's latest M3 Pro and M3 Max chips, and there is also an entry-level 14-inch MacBook Pro with the standard M3 chip. Manufactured with TSMC's 3nm process, these chips offer performance and power efficiency improvements over the M2 chip series, and they have an upgraded GPU with support for hardware-accelerated ray tracing and mesh shading for improved graphics rendering in games.
Geekbench 6 benchmark results for the new MacBook Pro models already leaked last week. The results showed that the M3 chip is up to 20% faster than the M2 chip, the M3 Pro is up to 6% faster than the M2 Pro, and the M3 Max is up to 50% faster than the M2 Max for performance roughly on par with the M2 Ultra chip.

Increased RAM
The M3 Pro and M3 Max chips in the new MacBook Pro models support up to 36GB and 128GB of unified memory, respectively. The maximum amount of RAM available in the M2 Pro and M2 Max chips was 32GB and 96GB.

Space Black
The new MacBook Pro models are available in a dark Space Black finish when configured with the M3 Pro or M3 Max chip. Apple says this finish features an "anodization seal" to "greatly reduce fingerprints." Based on hands-on videos and reviews, the seal does appear to reduce fingerprints compared to the MacBook Air's dark Midnight finish.

20% Brighter Displays
Apple's tech specs indicate that all of the new MacBook Pro models provide up to 600 nits of peak brightness for standard (SDR) content, which is a 20% increase over the 500 nits maximum on the previous-generation models. This means the laptops now have the same peak brightness as Apple's external Studio Display.