Apple Music's Lower-Priced Voice Plan Being Discontinued
The lower-cost Apple Music Voice Plan is being discontinued this month in the U.S. and all other countries where it was available, according to an Apple support document. Brazilian website MacMagazine was first to alert us to this news.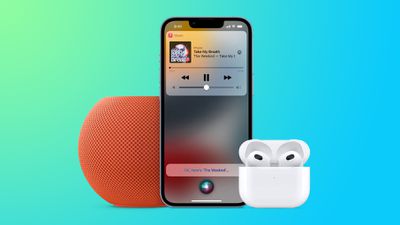 "Beginning in November, Apple will discontinue the Apple Music Voice plan," said Apple. "We are focused on delivering the best, most robust music experience possible for our customers, with features like immersive Spatial Audio, Apple Music Sing with real-time lyrics, intuitive browse and discovery features, and so much more."
Apple said existing subscribers can continue to use the Voice Plan for the duration of their final billing cycle, but they will lose access after that period. It's unclear why the plan was discontinued, but Apple says other Apple Music plans "already work seamlessly with Siri, and we will continue to optimize this experience."
Apple added that existing subscribers will receive a notification prior to the end of their final billing cycle with more information.
Priced at $4.99 per month in the U.S., the Voice Plan was designed to let users access Apple Music exclusively through Siri. The plan launched as part of iOS 15.2 in December 2021 in the U.S., Australia, Austria, Canada, China, France, Germany, Hong Kong, India, Ireland, Italy, Japan, Mexico, New Zealand, Spain, Taiwan, and the U.K.
The primary way to subscribe to the Voice Plan was by asking Siri, and music playback was controlled via Siri too. While the plan provided access to the entire Apple Music catalog with over 100 million songs, it lacked some features available on more expensive plans, such as downloading, spatial audio, and Family Sharing.
This story was updated with additional information from Apple.